Business meetings between Dhaka Chamber and Riyadh Chamber held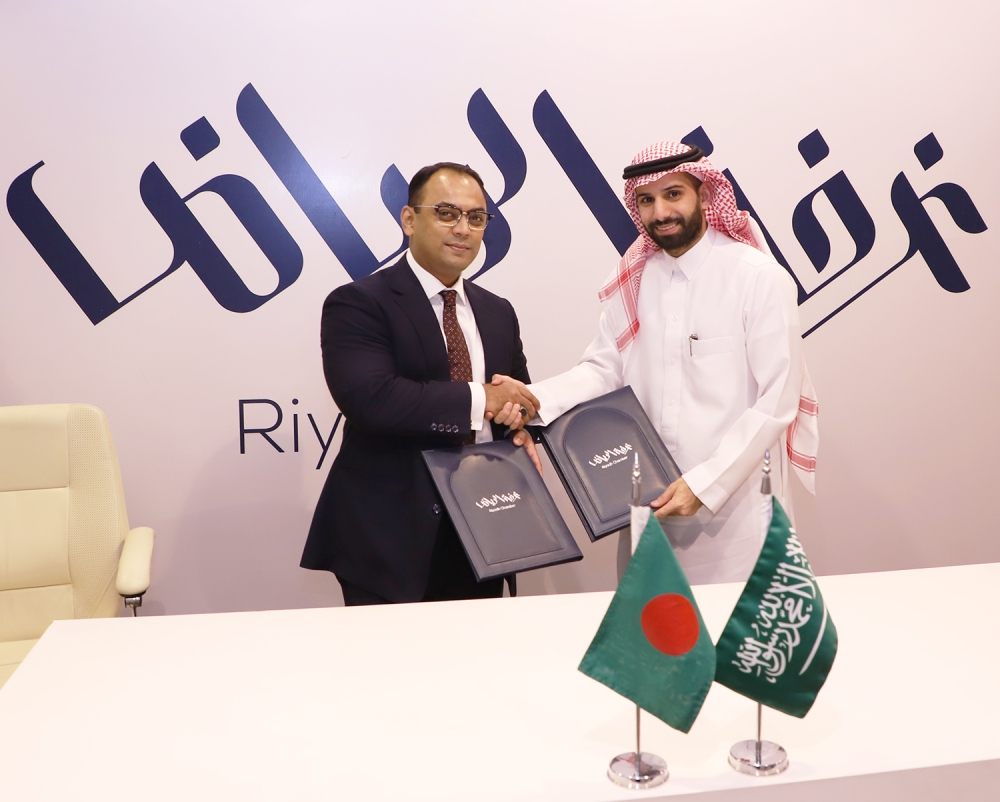 A business meeting between Dhaka Chamber of Commerce & Industry (DCCI) and Riyadh Chamber of Commerce followed by an effective B2B match-making session was held on 30 October, 2023 at the Riyadh Chamber of Commerce premises in Saudi Arabia. President of Dhaka Chamber of Commerce & Industry (DCCI) Barrister Md. Sameer Sattar is heading the largest private sector business delegation comprises of 61 Bangladeshi companies to Saudi Arabia.
During the meeting Naif Abdullah Al Rajhi, Vice Chairman, Riyadh Chamber of Commerce said that Bangladesh in recent past has done a tremendous development in terms of trade and commerce. He said both Bangladesh and Saudi Arabia have great prospects of economic transformation and diversification of resources. He also expressed his high hope that soon Bangladeshi investors will have a major share in the investment landscape of Saudi Arabia. Saudi market, one of the largest markets in the region can be attractive for Bangladeshi investors. He also underscored to explore new scope of common opportunities that Saudi and Bangladesh in different potential sectors. He said businesses have no boundaries and Saudi entrepreneurs want to do more businesses with their Bangladeshi counterpart.
DCCI President Barrister Md. Sameer Sattar in his speech said that we feel proud to see our products here in Saudi Arabia, which are made in Bangladesh. He also said that Bangladesh has been able to show its resilience especially in the last decade in terms of economic transformation. Since Bangladesh is going to graduate into middle income country in 2026, the country needs not only market diversification but also product diversification. He also termed that the bilateral trade of Bangladesh with Saudi Arabia reached USD 2 billion but the figure does not reflect the inherent potential of businesses. He said "the business delegation led by DCCI comprises of eminent large investors of Bangladesh especially from IT, agro, infrastructure, construction & Real Estate, energy and power, tourism and hospitality, education etc. and all of them are eager to expand their business with Saudi Arabia. He later invited Saudi entrepreneurs to invest especially in smart farming, IT, fintech, logistics and infrastructure sectors in Bangladesh.
Later the business meeting more than 120 B2B match-makings between Bangladeshi and Saudi businessmen were held. Meanwhile, a Memorandum of Understanding was signed between the Riyadh Chamber of Commerce and Dhaka Chamber of Commerce & Industry (DCCI) with a view to further cementing the bilateral business cooperation in the days to come. Barrister Md. Sameer Sattar, President, DCCI and Naif Abdullah Al Rajhi, Vice Chairman, Riyadh Chamber of Commerce signed the MoU on behalf their respective organizations.
DCCI Senior Vice President S M Golam Faruk Alamgir (Arman), Vice President Md. Junaed Ibna Ali, Members of the Board of Directors, Minister (Economic), Bangladesh Embassy in Saudi Arabia Murtuza Zulkar Nain Noman among others were also present.
Published on: 2023-10-30