Closing Ceremony of the Workshop on "Power Excel 2016: Beginners to Advance" organized by DBI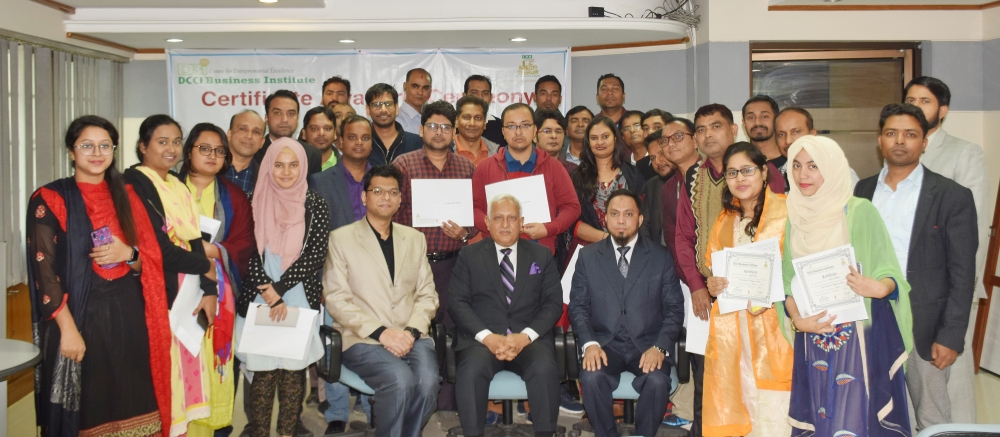 A Workshop on "Power Excel 2016: Beginners to Advance" was organized by DCCI Business Institute (DBI) on 24-25 January, 2020 in it's premises. Thirty one (31) Business Professionals nominated by different prominent organizations were participated in the Workshop. Md. Feroz Kibria, Specialist, Human Resources conducted the workshop as Resource Person. According to the participant's feedback this workshop has broadened their mental horizon and made them conversant with very important issues on excel programme.
Closing and Certificate Awarding Ceremony of the said program was held on 25 January, 2020 at DBI premises. N K A Mobin FCA, FCS, Senior Vice President, DCCI graced the program as Chief Guest. He stated that Excel is very helpful for day to day official activities. It simplifies powerful features including the latest released feature along with various Tips and Tricks and many more.
Md. Joynal Abdin, Secretary, DCCI & Executive Director of DCCI Business Institute (DBI) offered the vote of thanks on this occasion. He also advised the participants to practice and share their knowledge among the fellow colleagues. He was thankful to the respective authorities for nominating officials at the training program organized by DBI.
All participants, Tamanna Sultana, Joint Secretary (Training) and the Course Coordinator Abul Bashar, Assistant Secretary (DBI) were also present in the occasion.
Published on: 2020-01-25