Country competitiveness inevitable for improved economy: DCCI Seminar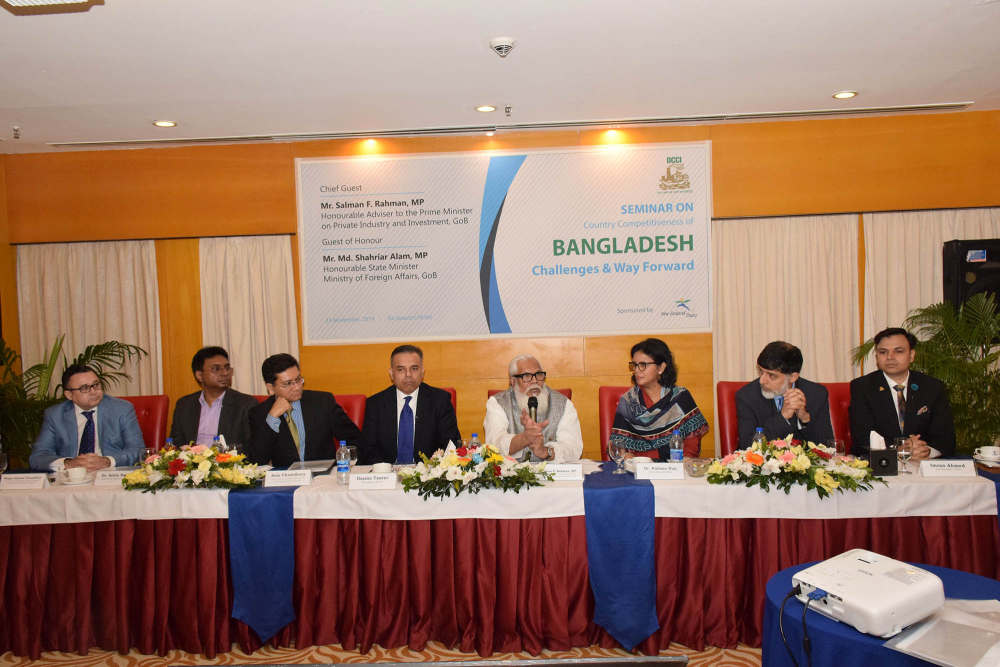 Dhaka Chamber of Commerce & Industry (DCCI) organizes seminar on Country Competitiveness of Bangladesh: Challenges and Way Forward at Six Seasons Hotel on 23 November, 2019. Salman F. Rahman, MP, Adviser to the Prime Minister on Private Industry and Investment was present on the occasion as the Chief Guest. DCCI President Osama Taseer chaired the seminar.
DCCI President Osama Taseerin his welcome address said private sector is the lifeline of our economy. Investment and trade promotion largely rely on doing business and country competitiveness state of a country. Bangladesh stands in the 105th position according to Global Competitiveness Report 2019 out of 141 countries where Singapore stands top followed by USA, Hong Kong and the Netherlands, he informed. In doing business index, Bangladesh's position is 168. Government's fast track infrastructure projects will enable competitiveness of Bangladesh, he said. But we have some challenges like energy price hike, unplanned urbanization, unemployment, limited skills diversity, slow reforms, climate change, limited capacity of adopting 4IR technologies and industrial infrastructure. We need to work hard to improve the competitiveness position through focused development moves of Doing Business and Competitiveness Indices. Improved competitiveness of Bangladesh will support footwear, plastic goods, ceramic, furniture, jute processing, electronics and ICT to emerge.
Dr. SelimRaihan, Executive Director, SANEM presented the keynote paper. He said Bangladesh is witnessing sluggish private sector investment. In recent year we also see a falling trend in export-GDP, remittance-GDP and FDI-GDP ratios. Despite, FDI share in GDP in Bangladesh is even lower but Bangladesh is also doing better in attracting FDI, he said. He suggested to undertake reforms in critical economic domains. He also urged for faster and cost-effective implementation of mega projects and skill development. To attract large scale FDI and export diversification, SEZs can be the game changer, he commented.
Salman F. Rahman, MP, Adviser to the Prime Minister on Private Industry and Investment said we need to work hard and more to improve the investment climate and he hoped that by 2021, Bangladesh will be able to place its position within double digit in the Ease of Doing Business index. Lot of reforms has been done by the present government and he urged the business community to reach this message to the mass people as well as in the international arena. Bangladesh has done tremendous success especially in the agriculture sector. He also emphasized on diversification of agro-products for more export.He said that access to finance is still a challenge for the entrepreneurs. He suggested to establish a specialized bond market for long term financing mechanism. For better competitiveness of the country and to cope up with the challenges of 4IR, he stressed on skill development.
Dr. RubanaHuq, President, BGMEA urged for inter-ministerial coordination for smoother decision making process.She also urged for innovation and research & development (R&D) in the RMG sector for its sustainability. She also mentioned that besides RMG sector, we need to focus on diversification of other sectors to compete in the international market.
Anir Chowdhury, Policy Advisor, a2i Programmeof ICT Division said that we have to modernize and update our existing education system to create skilled manpower who will take up the challenges of fourth industrial revolution (4IR). He said that as a part of skill development initiative, government started to train the youth Internet of Things (IoT).
Ahsan Khan Chowdhury, Chairman & CEO, PRAN RFL saidwe need to identify the problems of each sector and to find out the appropriate measures to solve. He said to improve in the competitiveness we have to improve the port facility as priority basis. The entrepreneurs of Bangladesh are courageous and they will lead the economy to the next level.
DCCI Senior Vice President, Waqar Ahmad Choudhury, Vice President Imran Ahmed, Directors Abul Kasem Khan, Engr. Akber Hakim, Andaleeb Hasan, Ashraf Ahmed, Alhaj Deen Mohammed, Enamul Haque Patwary, Hossain A Sikder, Kh. Rashedul Ahsan, Engr. Md. Al Amin, Md. Rashedul Karim Munna, Mohammad Bashiruddin, Nuher L. Khan, Shams Mahmudand Mr. S.M. Zillur Rahman were also present on the occasion.
Published on: 2019-11-23