DCCI BoD called on Industry Minister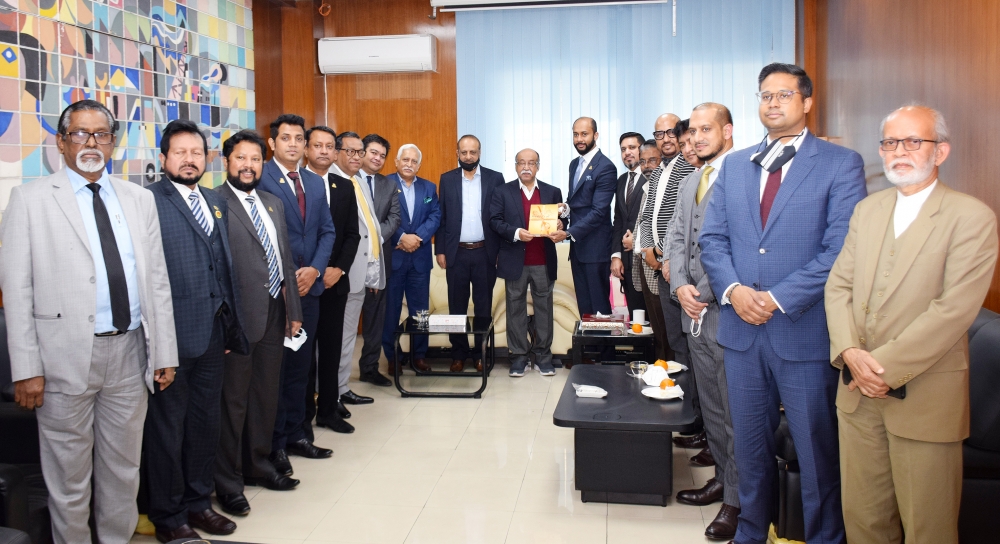 The Board of Directors of Dhaka Chamber of Commerce & Industry (DCCI) led by its President Rizwan Rahman called on Industries Minister Nurul Majid Mahmud Humayun, MP at his Ministry today on February 01, 2021.
During the meeting, Industries Minister Nurul Majid Mahmud Humayun, MP said that government has several state-owned industries of different sectors across the country. He also said that government is working hard to modernize these state-owned industries with technological advancement. He also requested the private sector to come up with local investment as it will attract the FDI as well. He said local investment will create opportunity of new employment generation in the country. He also emphasized country wide equal industrialization with the help of cluster development so that every corner of the country can come under rapid industrialization process. Regarding policy support, he assured of all possible assistance from the government to facilitate the private sector.
DCCI President Rizwan Rahman said that 75% entrepreneurs in Bangladesh are from small and medium enterprises but the cottage, micro and small enterprises are deprived of getting loans under stimulus and other non-fiscal policy support compared to the medium enterprises due to having less fiscal strength and workers. To come out of this discrimination, the DCCI President suggested to redefine CMSME and formulate a SME Act instead of Policy to make it more effective. Moreover, he also proposed to take a project to create a sector specific database of CMSMEs in order to bring them under policy assistance.
DCCI President requested to establish agro based economic zones in the agriculture based areas like Jessore, Rangpur, Mymensing and Sylhet region. He also urged to ensure investment friendly environment for the development of export oriented manufacturing sector and to increase the investment - GDP ratio to 36.99% according to the 8th five year plan. Bangladesh will have to comply with 27 conventions of EU after graduation from LDC. He suggested to include a road map to fulfill these conventions. The future digital economy will be controlled by 4IR, IOT, Block Chain, Big Data and Cloud Computing, Artificial Intelligence and Robotics. Therefore, in order to engage public and private sector to make the young generation skilled, fiscal and non-fiscal incentives should be given, he told. For export diversification and market expansion, he suggested to provide back to back LC facility to other potential sectors like RMG sector gets now. He also requested for bonded warehouse facility for leather products manufacturers and tax holiday facility to use modern technology in the ship building, jute and jute goods, agro-processing and light engineering sector. He also urged the Minister to announce printing and publishing sector as industry considering its wide ranging contribution to the economy. He also said that industries can be established under PPP model in the unused lands of state owned industrial units across the country. He also proposed to include DCCI in the "National Industrial Development Board".
Industries Secretary K. M. Ali Azam said that in the upcoming Industrial Policy the 8th Five Year Plan and fourth industrial revolution will get priority. To face the challenges of 4IR, both the public and private sector should come forward to reskilling and up-skilling the existing work force, he added. He said the government is now mainly focusing on attaining the vision 2041 and for this government will work hand in hand with the private sector.
DCCI Senior Vice President NKA Mobin, FCS, FCA, Vice President Monowar Hossain and members of the Board were also present during the occasion.
Published on: 2021-02-01