DCCI delegation meets with the Chief Minister of Assam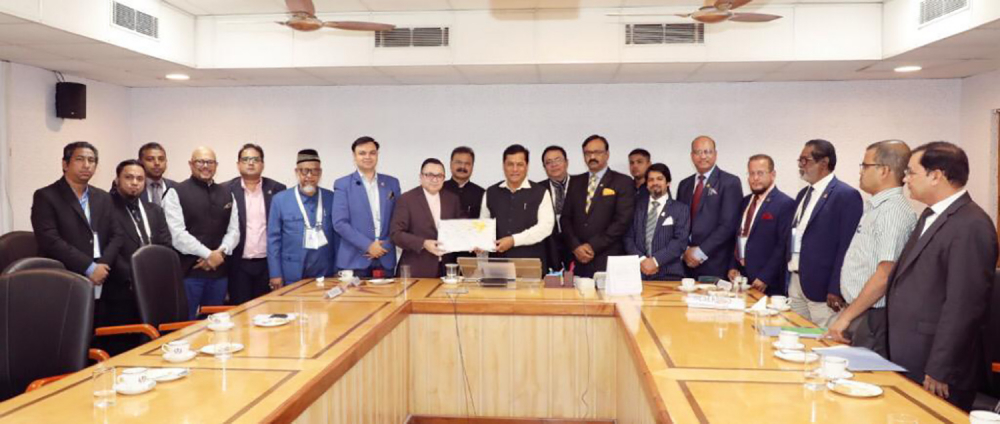 A 14-member delegation of Dhaka Chamber of Commerce & Industry (DCCI) met the Chief Minister of Assam, India Sarbananda Sonowal, on 23 October, 2019 in Guwahati, Assam, India.

The delegation was in Guwahati to attend the "India Bangladesh Stakeholders' Meet" led by Senior Vice President, DCCI Waqar Ahmad Choudhury. The 2-day event was jointly organized by Indian Commerce and Industry Ministry, Assam Government and Indian Chamber of Commerce. Meanwhile, during the meeting with the Chief Minister, DCCI Senior Vice President Waqar Ahmad Choudhury said that the size of India-Bangladesh bilateral trade is about USD11 billion, but the trade balance is 9:1 in favour of India. He emphasized the need for cross border trade and investment through increased cooperation and connectivity between the two friendly nations and the seven sisters as a potential outlet for Bangladeshi goods into the ASEAN market.

Chief Minister of Assam Sarbananda Sonowal stressed on the need for continuing discussions on all fronts like G2G, G2B and B2B. He also emphasized on maintaining close relationship between chamber bodies of the two countries. He was especially excited about opening up the multimodal inter-connectivity between the northeast region of India and Bangladesh leading to significant enhancement of bilateral trade.

The delegation also separately met with the Minister for Commerce and Industry of Assam, Chandra Mohan Patowary and discussed in detail the trade opportunities between the two countries.

DCCI Vice President Imran Ahmed, Directors Hossain A Sikder, Engr. Akber Hakim, Mohammad Bashiruddin, Engr. Md. Al Amin, Shams Mahmud, SM Zillur Rahman, Alhaj Deen Mohammed, former Senior Vice President Alhaj Abdus Salam and former Director Alhaj Mohammad Sharfuddin were also present during the meeting.
Published on: 2019-10-24