DCCI inked MoU with Northern University Bangladesh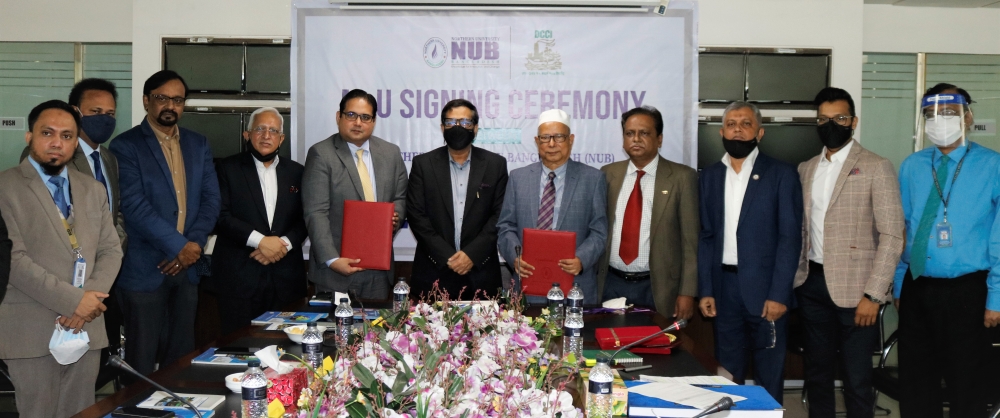 Dhaka Chamber of Commerce & Industry (DCCI) signed a Memorandum of Understanding (MoU) with the Northern University Bangladesh (NUB) on 22 November, 2020 at the NUB Corporate Headquarters in Dhaka. DCCI President Shams Mahmud and Vice Chancellor of NUB Prof. Dr. Anwar Hossain signed the document on behalf of their respective organizations.
According to the MoU, both the organizations shall work for joint research as an initiative of industry-academia collaboration for the greater interest of economy. Both DCCI and NUB will jointly organize seminar, workshop, job fairs and business conference. Different need-based courses, trainings will also be conducted mutually. According to the understanding, DCCI will assist in providing internship to NUB students as well.
DCCI President Shams Mahmud said DCCI has always been in the forefront in dealing with the need, opportunities and challenges linked with skills development. The MoU signed is a milestone and will work for research and skill development that will usher a scope of creating innovative work force needed for the economic development of the country. Shams Mahmud also underscored the importance of research and innovation to attain the goals of becoming a developed nation.
Vice Chancellor of NUB Prof. Dr. Anwar Hossain requested DCCI to put forward suggestions from the industry perspective about the actual need of skills necessary for the industry so that academia can design the curriculum according to the demand of the business sector. What we teach the students today, is delivered to the job market tomorrow, therefore it is very important to match the demand of industry and academia on the same ground, mentioned the Vice Chancellor. He also termed the MoU a milestone for industry-academia collaboration and assured to work together for the betterment of country's economy.
Professor Dr. Abu Yousuf Md. Abdullah, Chairman, Board of Trustee, NUB said businessmen are the largest contributor to the development of our economy. He said, we need to come out of traditional system of education rather global standard skills are more important than certificates now a days. If we can make the students well equipped and ready to handle the upcoming global challenges, they will be able to guide us to harvest the highest goal for the nation. He also recommended the business leaders to share the challenges they face in doing businesses so that academia can teach the future generation according to fact-based reality and need.
Prof. Dr. Nazrul Islam, Pro-Vice Chancellor, NUB, Commodore M Munirul Islam (Retd), Registrar, NUB, N K A Mobin, FCA, FCS, Senior Vice President, DCCI, Mohammad Bashiruddin, Vice President, DCCI were also present during the MoU signing ceremony.
Published on: 2020-11-22