DCCI Webinar on LDC Graduation of Bangladesh: Transformation and Preparedness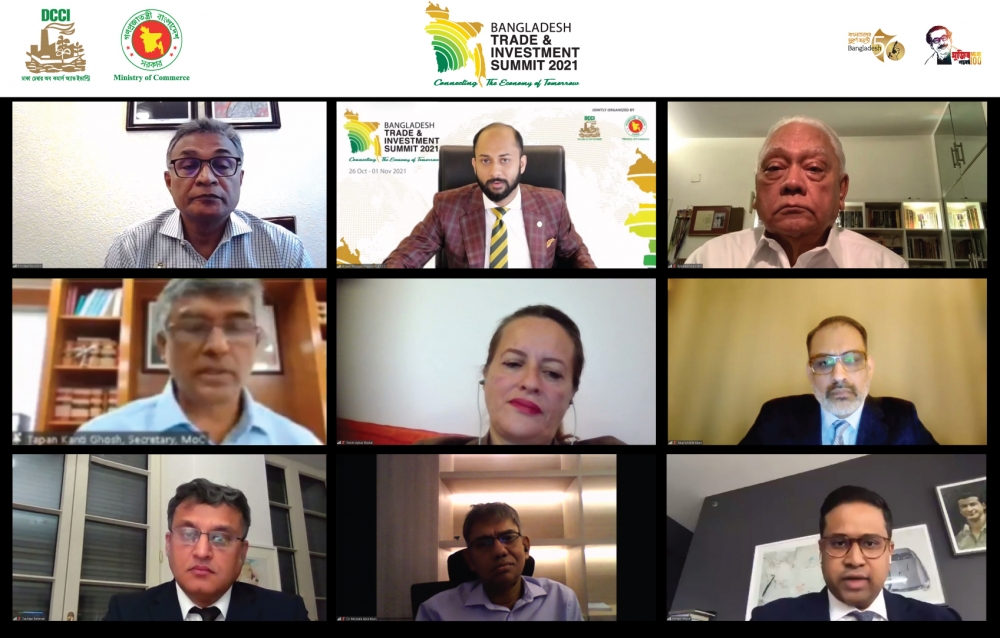 Technology adoptation, technology transfer, equal treatment to all export-oriented industries, tariff rationalization, competitiveness in export diversification, skill development, investing in research and innovation, policy reforms, tax incentives, FDI attraction and competitive tax structure are some of the important issues speakers identified to address to become prepared for LDC graduation. They told these in a webinar on "LDC graduation of Bangladesh: Transformation and preparedness" jointly organized by Ministry of Commerce and Dhaka Chamber of Commerce & Industry (DCCI) on the 3rd day of Bangladesh Trade & Investment Summit on October 28, 2021. DCCI President Rizwan Rahman chaired and moderated the session.
Chief Guest of the session, Dr. Ahmad Kaikaus, Principal Secretary to the Prime Minister said 81% of the GDP comes from the private sector reflects the strength of its vibrancy. We have to facilitate private sector and have to make a strong bondage between the public and private sector as private sector plays the major role in the economic transformation in the country. Entrepreneurs of Bangladesh are very hard working and resilient, he said. He cited an example that in the power sector of Bangladesh most of the entrepreneurs are from local. He also said that government is always willing to listen the problems private sector is facing and very much accommodative to solve those.
Syed Manzur Elahi, Chairman, Apex Group and former Adviser to the Caretaker Government said that many of us are always talking about export diversification, but it is not happening in reality. He said that we have to create jobs that helps alleviate poverty and it is the duty of private sector to create jobs. For creating jobs, country needs industries. Due to our skill shortages, thousands of foreign workers are working in Bangladesh and remit about USD 5 billion every year. Leather sector is a highly labour intensive, capital intensive and this sector has a huge scope of technology adoptation. Citing an example of Vietnam in the leather footwear industry, he said Bangladesh and Vietnam stepped into this sector at the same time but Vietnam is now exporting footwear worth of USD 16 to 17 billion whereas Bangladesh is stuck around USD 1 billion. He said joint ventures in the leather footwear sector will strengthen this sector in Bangladesh. He urged for a separate Economic Zone especially for leather footwear industry. He sought equal treatment and facilities for all export-oriented industries like RMG sector.
Tapan Kanti Ghosh, Secretary, Ministry of Commerce in his introductory remarks said every graduating economy undergoes a transitional process with a deep aspiration of renewed economic journey. Upon graduation, Bangladesh will come across some key challenges including loss of duty free quota free facility, increased tariff rates, technological adaptation, increased competition at both local and international market, standard & quality, stringent rules of origins, skills upgradation and trade and industrial compliance issues. Alongside, the graduation will also generate ample of opportunities in many respects including private sector development, enriched industrial base, investment and trade growth and local market expansion and so on.
Moderator of the session, Rizwan Rahman, President, DCCI said technology transfer is no longer a choice but a necessity now. He said Bangladesh's economic condition is quite resilient and progressive that after the graduation, the country will be able to make its position stronger. But before that the first and foremost thing is to ensure product diversification in the export basket and technology adoptation as well as domestic market development, he said. And for product diversification he suggested to provide all facilities to the export oriented industries that the RMG sector is availing now.
Abul Kasem Khan, Chairperson, BUILD underscored the importance of job creation, expanding economic freedom, policy reforms and building new areas of competitiveness. He said increasing tax net is more important for a good shape of tax to GDP ratio. Bangladesh needs to focus on improving in ease of doing business index, regional integration by signing FTA, domestic industry diversification before LDC graduation. "We need to make at least 10 SEZs ready for investment", he said. He again urged for a national logistic policy to become competitive in the world market.
Yesim Baykal, Programme Management Officer, UN Technology Bank for LDC said that LDC countries have to strengthen their capacity. She said that UN Technology Bank has been assessing the areas where Bangladesh needs technological cooperation. For Bangladesh it is necessary to focus on technological adaptation, technology transfer, research and innovation and building human capacity. She also said that Bangladesh performed the best in producing 'Knowledge and technology outputs' ranked 92 among 132 countries while it has to work more in 'human capital and research'.
Taufiqur Rahman, Board Member, World Trade Organization said Bangladesh has achieved the threshholds in a good manner. "We have a strong foundation of economy". Bangladesh has shown its resilience event in the pandemic time. Bangladesh is the top exporter in the LDC group. Despite Bangladesh will enjoy preferences in the EU till 2029 but in the meantime we have to build our negotiation capacity.
Dr. Mostafa Abid Khan, former Member of Bangladesh Tariff and Trade Commission urged for quality education and research. He said diversification of products is more important to sustain after graduation. Still about 81% of export earning comes only from RMG sector. He also stressed upon tariff rationalization, industry competitiveness for early preparation of graduating from LDC. But for that a conducive policy for foreign investment is must as foreign investment brings newer technology.
Published on: 2021-10-28