E-commerce market size will be of USD3 billion by 2023: DCCI webinar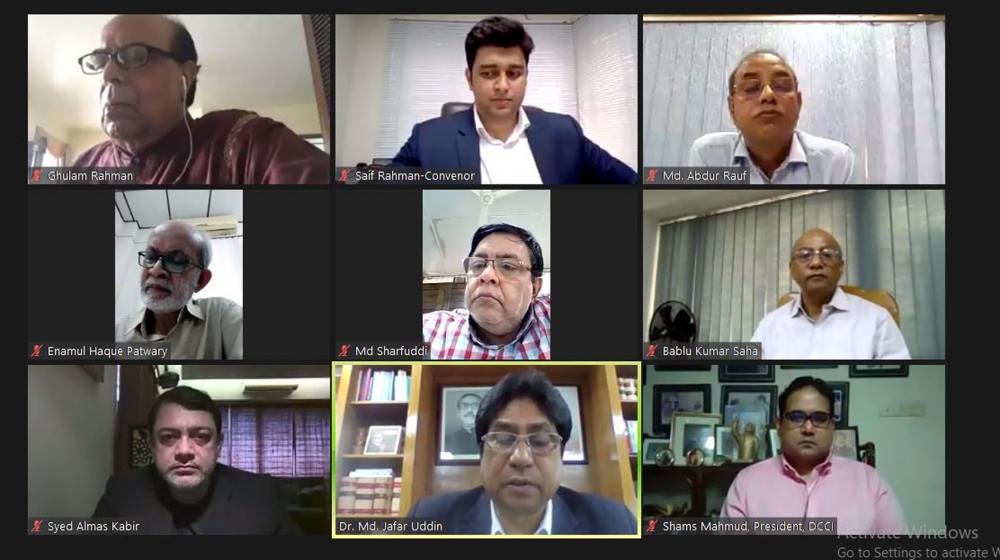 Dhaka Chamber of Commerce & Industry (DCCI) organized a webinar on `e-Commerce and Consumer Rights in the time of Covid 19: Challenges & Way Forward' on 3 rd November, 2020. Secretary, Ministry of Commerce Dr. Jafar Uddin joined as the chief guest while Ghulam Rahman, President, Consumers Association of Bangladesh (CAB) joined as special guest. DCCI President Shams Mahmud moderated the webinar.
DCCI President Shams Mahmud in his welcome address said that at present the size of e- commerce market in Bangladesh is of about USD 2 billion and it is increasing at a rate of 50 percent every year. Despite general trading in COVId-19-led pandemic situation reduced in the country, but the e-commerce trading has increased remarkably. Protection of consumer rights is a key factor for a sustainable e-commerce ecosystem in Bangladesh, he told. Quality, conformity, liability, distribution, secured payment system and price of products are very much linked with consumer rights. He also recommended to bring e-commerce sector under government's stimulus package. He further suggested to strengthen BSTI, reduce VAT and supplementary duty on e-commerce businesses at a logical level, ease conditions of licensing to formalize e-commerce entities, introduce 5G technologies and arrange trainings for e-commerce based SME entrepreneurs. For effective implementation of National Digital Commerce Policy-2018, capacity building of concerned stakeholders and their institutional capabilities need to be enhanced, he finally added.
Dr. Jafar Uddin, Secretary, Ministry of Commerce said Covid-19 came to us as blessings for e-commerce business. In spite of having dissatisfaction among the consumers, despite the market of both e-commerce and f-commerce are growing manifold for their incremental demand. In order to utilize its huge potentials, a Digital Cell has been established in the Ministry of Commerce. An Advisory Committee is also working under WTO cell of Ministry of Commerce to ensure consumer-friendly digital commerce eco-system. Through the Digital Cell and e-support centre, we will be able to face the existing challenges of this sector, he added.
Ghulam Rahman, President, Consumers Association of Bangladesh (CAB) said that we need to address the problems of e-commerce to facilitate its success. F-commerce is also flourishing in the country. He said registration system for f-commerce is needed to bring them under monitoring and accountability. Along with the advancement of e-commerce, adequate rules and regulations should be in place, he added.
Syed Almas Kabir, President, BASIS in his keynote paper highlighted that internet users in Bangladesh have increased 5.9% compared to last year. In context of ICT adoption index, Bangladesh is ahead of India and Sri Lanka. There are 36 million active social media users in our country and the f-commerce market size in Bangladesh is of taka 312 crore. He further urged to bring f-commerce traders under a registration process so that they could be monitored and regulated and financed. In 2020 the e-commerce business experienced a significant 166% growth and by the year 2023 the market size of this sector will reach to USD3 billion, he said. Before that we need to solve unreliable internet connection, ensure easy payment user-friendly payment system, improve skilled IT professionals tackle unwanted cyber-attack, enhance technology adaptation, build physical infrastructure, offer fiscal and non-fiscal incentives. Strong regulatory monitoring will mitigate bad players in the market, he opined. Moreover he urged for e-commerce marketing and advertising policy along with data privacy.
Fahim Ahmed, President & CFO, Pathao Ltd. said that it is challenging to gain confidence and reliability of consumers. Dominant player may create monopoly in the market. He also urged to facilitate local entrepreneurs so that they compete with other foreign entity.
Syed Mustahidal Hoq, Managing Director, Daraz Bangladesh Ltd. said that f-commerce should be regulated as it is not same as e-commerce. He said at present 33,000 merchants are now working with Daraz. Online selling is increasing day by day and the market penetration is quite good, he mentioned.
Tina Jabeen, Managing Director & CEO, Startup Bangladesh Ltd. said that the organization has a 500 crore taka allocation and it is a flagship project of ICT division of the government. We are working to finance the startups in Bangladesh, she said. Bangladeshi startups are doing well and they need adequate financial support for their sustainable growth. She also urged the local investors to finance and promote the e-commerce startups as there are foreign players in the market.
Mohd. Humayun Kabir, Executive Director, Bangladesh Bank said we are trying to facilitate micro merchants in the e-commerce eco-system by easing their documentation process.
Md. Abdur Rauf from Bangladesh Competition Commission said we have to ensure a fair competitive e-commerce market where the market will be able to determine the abuse of dominant position.
Bablu Kumar Saha, Director General, Directorate of National Consumer Rights Protection said that it is difficult to gain customer's satisfaction. He underscored the importance of translating terms and condition of e-trading into Bengali to reduce fraudulence. Simultaneously, we have to create awareness among the customers, he added.
DCCI Senior Vice President NKA Mobin, FCA, FCS and Vice President Mohammad Bashiruddin, Directors Alhaj Deen Mohammad and Enamul Haque Patwary also joined the webinar.
Published on: 2020-11-03