Policy support and incentives sought to tap the potentials of API (Active Pharmaceutical Ingredients) Industry in Bangladesh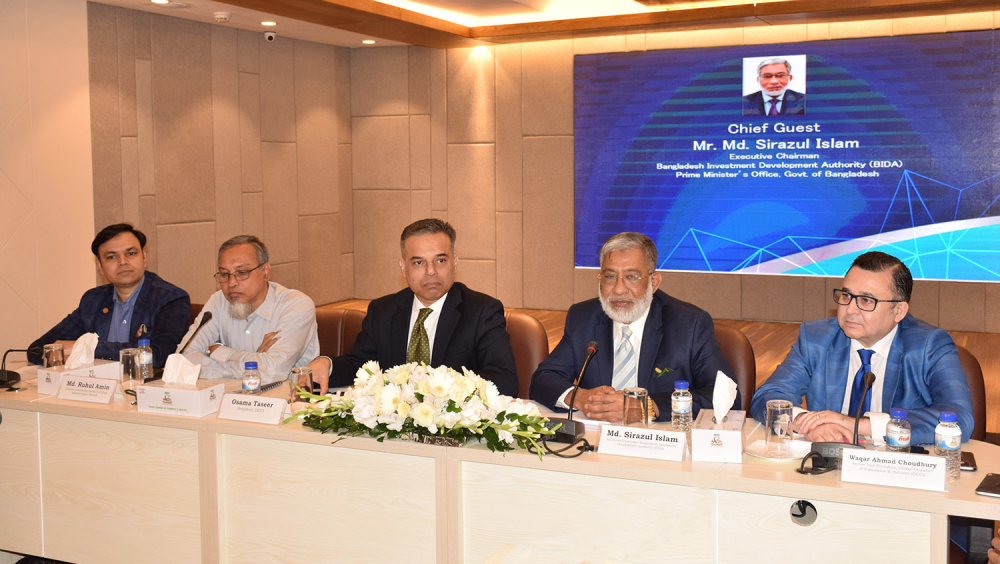 Dhaka Chamber of Commerce & Industry (DCCI) organized a seminar on "Prospects and challenges of API (Active Pharmaceutical Ingredients) Industry in Bangladesh" at DCCI on 02 November, 2019. Executive Chairman of Bangladesh Investment Development Authority (BIDA) Md. Sirazul Islam was present as chief guest while Director of Directorate General of Drug Administration (DGDA) Md. Ruhul Amin was present as special guest. DCCI President Osama Taseer chaired the seminar.
DCCI President Osama Taseer in his welcome address said that one of the major challenges in pharmaceuticals industry is raw materials import dependency. On the other hand, local API producers can supply very insignificant amount around 5% which is relatively cheaper than imported API, he said. For local production of API we need modern skills and technical know-how, he also mentioned. Capacity building of local research, academic institutions, manufacturers and professionals need be immediately addressed through public and private sector. We need to focus on achieving self-sufficiency in quality API production to support and sustain the pharmaceutical sector beyond TRIPS regime later 2033, he added. In this regard he emphasized to make joint ventures with international API producers and gain experience from them.
Executive Chairman, BIDA Md. Sirazul Islam said that Bangladeshi locally produced medicines cater the 98% of our demand. Bangladesh is currently exporting medicines of about USD 135 million to about 120 countries which indicates our strength in this sector. If public and private sector work together, nothing is impossible, he commented. After 2027 when we will become a middle income country we may lose existing facilities under TRIPS agreement, but we need to be prepared by this time, he said. Terming medical science as a live science, he emphasized on industry-academia collaboration for research and development to do good in the API industry. We need to utilize our Universities for vigorous research, he said. Lastly, he mentioned that BIDA will assist for the development of API sector.
Director, DGDA Md. Ruhul Amin said that the Honourable Prime Minister of Bangladesh announced API and Pharmaceuticals is the product of the year. DGDA is firmly committed to support to grow API industry in Bangladesh as well as its policy implementation. But, to do something good in the API industry, he said research and development are must. He requested the entrepreneurs to invest more in this sector.
Dr. Md. Rabiul Islam, Professor, Department of Chemistry, Mawlana Bhashani Science and Technology University in his keynote presentation highlighted that being an LDC country Bangladesh can produce Patents of API. Our domestic pharmaceutical market size is Tk. 20,512 crore having annual growth of 10%. He requested the government to support and give incentives to the investors.
Major General Dr. Jahangir Hossain Mollick (Retd.), Former Director General, DGDA, Md. Hafizur Rahman, Director, WTO Cell, Ministry of Commerce, Dr. Sheikh Maksudur Rahman, Director (API Project), The Acme Laboratories Ltd. and DCCI Convenor & Chairman, Active Fine Chemicals Ltd. Md. Zia Uddin spoke as designated panelists. The speakers urged for extensive research and development initiatives for as sustainable API industry. Speakers said that this sector should not be neglected and adequate incentives should be given. They also urged for rapid implementation of Drug Policy. The sector also needs technical support as biotech medicines are coming rapidly. To grab the 45 billion US dollar market, the industry needs proper policy support and incentives, the speakers said. Bangladesh is the market leader among the LDC countries and the API industry can attract huge FDI, the speakers commented. In order for technology transfer, they underscored the importance of joint ventures with foreign API companies.
DCCI Senior Vice President Waqar Ahmad Choudhury gave the concluding remarks.
DCCI Vice President Imran Ahmed, Directors Nuher Latif Khan, Alhaj Deen Mohammad, Mohammad Bashiruddin, Engr. Md. Al Amin, Enamul Haque Patwary, Ashraf Ahmed, Kh. Rashedul Ahsan, Shams Mahmud were also present on the occasion.
Published on: 2019-11-02