Pre-Budget Discussion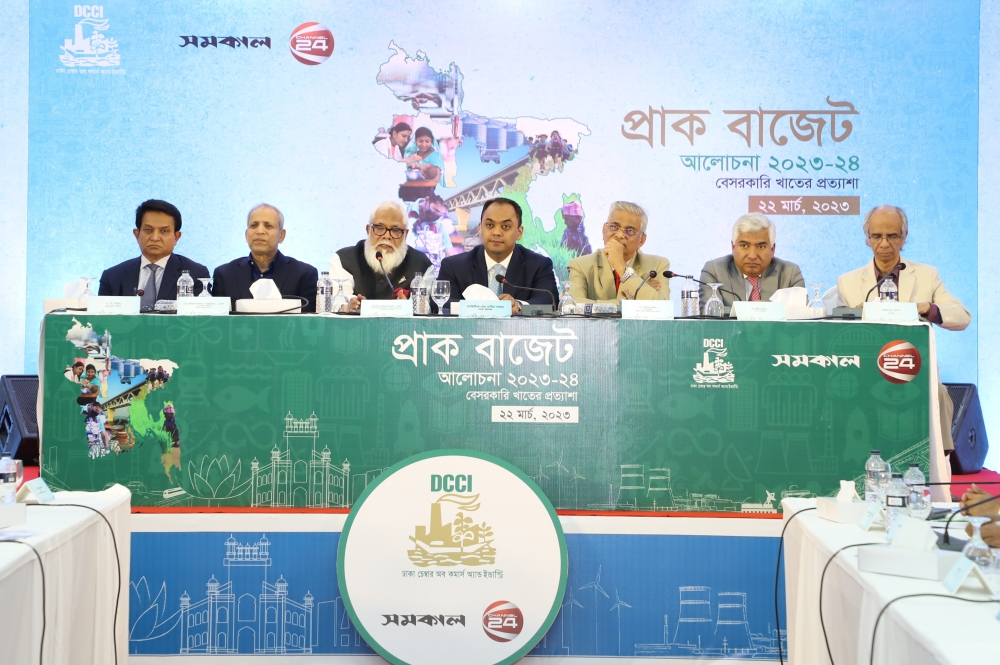 Business leaders urges for simplification of taxation system and tax reforms for facilitating the private sector to grow so that they can compete in the international market. Bangladesh's economy is quite stable now but there is no scope of being reluctant due to global geo-economic challenges, speakers told at a live pre-budget (FY2023-24) discussion meeting organized by Dhaka Chamber of Commerce & Industry in association with Daily Samakal and Channel 24 at the BICC on March 22, 2023. Salman F. Rahman, MP, Private Sector Industry and Investment Adviser to the Prime Minister was present as chief guest. State Minister for Planning Dr. Shamsul Alam and Md. Shafiul Islam (Mohiuddin), MP were present as special guests. Md. Jashim Uddin, President, FBCCI and A K Azad, Former President, FBCCI were also present as guest of honour.
DCCI President Barrister Md. Sameer Sattar moderated the live telecast programme. He said only 3 million people submit their tax return every year but the number should be expanded to at least 10 to 20 million. He also requested to reduce at least 2.5% corporate tax for non-listed companies and enhance the tax free income limit for the individual from existing 3 lac to 5 lac considering current inflation and cost of living. He later recommended to reduce source tax on interest of companies from 20% to 10%. Regarding financial sector, he suggested for a long-term roadmap to reduce NPL. Till 2041, Bangladesh will need an investment of about USD 609 billion for infrastructure sector. He therefore urged for a financial source mapping for this investment. In order to enhance our export competitiveness we have to go for export diversification and explore new potential sectors.
Salman F. Rahman, MP, Private Sector Industry and Investment Adviser to the Prime Minister said Russia-Ukraine war, global energy price increase, interest rate hike by US Fed have impacted our economy. He said due to these reasons Bangladesh Bank has taken cautionary measures in terms of import and LC opening and this is why our reserve is still quite stable. He also hoped that by June this year the dollar crisis and LC opening issues will be solved. He also said that as our tax to GDP ratio is not satisfactory and our revenue collection is also low, therefore we have no other alternative but to increase the tax net. He underscored the importance of tax automation, simplification of taxation system, use of technology. Businessmen should have a mindset to pay tax willingly. If we do not pay tax where from the government will get revenue. The Adviser said agriculture, leather, light engineering, pharmaceuticals and other important sectors should get the same facilities as the RMG sector gets. He also emphasized on product diversification of our exportable items to be competitive after LDC graduation.
Dr. Shamsul Alam, State Minister for Planning said that inflation control, sustainable economic growth and employment generation, attracting investment, reducing public sector borrowing etc. will get priority in the next budget. Moreover, considering the global economic downturn and instability, the next budget will not be an over ambitious one, he added. He said in all indices, like remittance , export , foreign exchange reserve and FDI Bangladesh's growth in last six months was not negative.
Md. Jashim Uddin, President, FBCCI said based on the global instable economic situation, our private sector is losing their competitiveness that will hurt the whole economy by and large. He hope that soon the bad culture of red-tapism in the bureaucracy will no longer exist. For the sake of the growth of backward linkage industry there should have a policy guideline. He also said that we should not depend only on RMG rather other sectors should get equal benefits.
Former FBCCI President A K Azad said recently price hike of power, energy and gas has put our industries and industrial production under pressure. He said if energy price comes down in the international market the price in Bangladesh should also be revised, he mentioned. He said the gas we have will last only for next five years, so we need to think for our future energy security now. He also emphasized on development of backward linkage industry and man-made fiber, use of technology and innovation. Moreover, he urged to reduce tax on import of solar power machineries.
The discussion was divided into four sessions: taxation and VAT, Financial Sector, Industry and Trade and Infrastructure. Former NBR Chairman Md. Nojibur Rahman, Former NBR Member Md. Alamgir Hossain, Zaved Akter, Managing Director, Unilever Bangladesh, Masrur Arefeen, Managing Director, The City Bank Ltd., Dr. Selim Raihan, Executive Director, SANEM, Arif Khan, Chairman, Shanta Asset Management Ltd., Ahsan Khan Chowdhury, Chairman, Pran RFL group, Mohammad Ali Khokon, President, BTMA Imran Karim, Vice Chairman, Confidence group, Mainuddin Monem, Managing Director, Abdul Monem Ltd. also spoke among others. Speakers of these sessions stressed on internal resource mobilization and digitization or automation of taxation system. The also urged upon widening tax net, tax reforms, increasing tax-GDP ratio, simplification of tax, bond market development for long term financing, sustainable capital market development, safeguarding SMEs, improving backward linkage industry, inflation control, ensuring food security, reduction of corporate tax, bond facility for all export-oriented industries, product diversification, market diversification, signing of PTA and FTA, removing tariff and non-tariff barriers etc.
Editor of Daily Samakal Mozammel Hossain also spoke on the occasion.
Published on: 2023-03-22