Seminar on Bi-annual economic outlook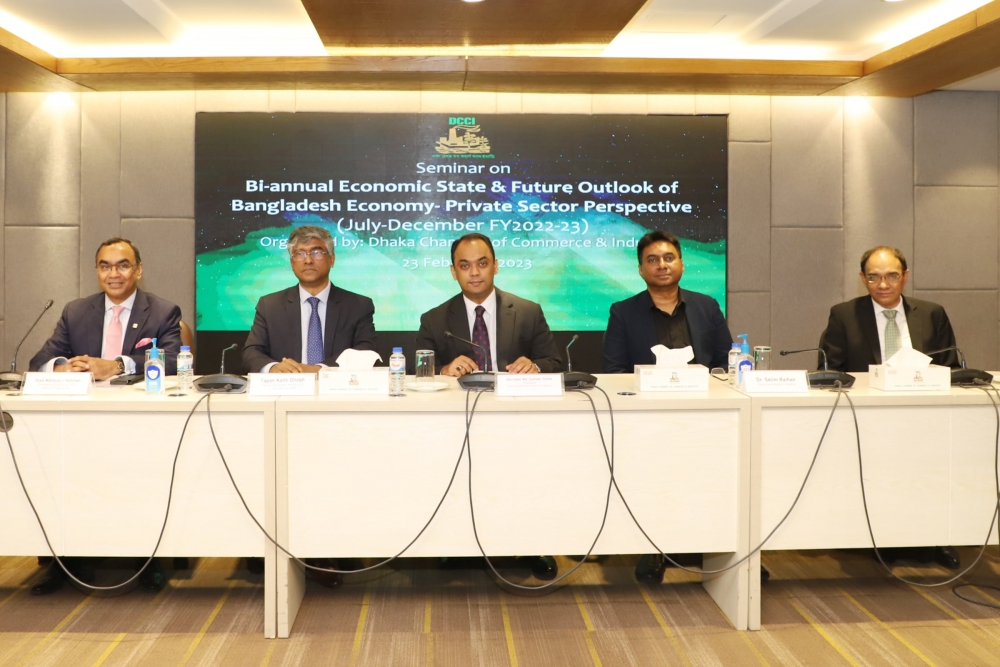 DCCI President Barrister Md. Sameer Sattar said it is evident that the economy of Bangladesh has various challenges in the given geo-economic perspective but still our economy has deep resilience and commitment to deal with this situation. He mentioned it at a seminar on "Bi-annual economic state and future outlook of Bangladesh economy: Private sector perspective" (July-December FY2022-23) organized by DCCI on February 23, 2023.
Tapan Kanti Ghosh, Senior Secretary, Ministry of Commerce, Government of Bangladesh was present as the chief guest while Mohsina Yasmin, Grade 1, Secretary (Additional Charge), BIDA joined as special guest.
In the keynote presentation, Barrister Sattar discussed various pressing and contemporary issues, challenges and impacts on economy covering geo-economic impact, LDC graduation, performance of fiscal and monetary policy, inflation, private investment, international trade and so forth from a private sector perspective. In the post-LDC era he said we need to go for product diversification, strengthening backward linkage industries, skill development and technological efficiency. He also underscored for proper implementation of monetary policy, creating a business-friendly environment and necessary policy reforms. To increase tax-GDP ratio there is no alternative of increasing the tax net, he said. He also proposed for a separate 'Agro-Industrial zone' to attract foreign investors. To curb the NPL, he suggested to take stern measures for quick loan recovery. He later suggested for FDI diversification, developing backward linkage industry to increase value addition up to 90%, expediting API park implementation for pharmaceutical industry, light-engineering Industrial Park, increasing cash incentives for exporting diversified jute products. He also requested to separate 'Medium' enterprises from the CMSMEs to provide CMS enterprises more competitive edge over medium enterprises especially in getting access to finance.
Tapan Kanti Ghosh, Senior Secretary, Ministry of Commerce said that country is going to be graduated from LDC status in 2026 and there is no reason of fear for that. We need to go for massive value addition to get duty benefit, he added. And for this value addition, we need to strengthen and enhance backward linkage industry. He also said that in the post-LDC era product diversification will play a catalyst role to cater better export market share for Bangladesh. Since 80% of our economy is driven by the private sector therefore it is the key role of private sector to be ready for these upcoming challenges, he added. He later emphasized on quality education, skill development and business friendly environment through shared public-private partnership to steer the post-graduation journey of Bangladesh. He further said that government cannot alone lead the country to its desired level rather it should be a joint initiative of both public and private sector.
Mohsina Yasmin, Grade 1, Secretary (Additional Charge), BIDA requested the investors to utilize the integrated and inclusive OSS platform as a stepping stone towards the investment friendly ecosystem development of Bangladesh. She encouraged local and foreign investors to use this OSS platform for time and cost-efficient services to enhance the investment in Bangladesh.
Mohamed Ali Hossain, Director, PHP Family said if we can ensure more resilient, consistent and friendly business ambience in Bangladesh this will help the investment and enable the government to realize the more tax revenue in future.
Syed Mahbubur Rahman, Managing Director & CEO, Mutual Trust Bank emphasized on remittance growth to secure better forex. He also underscored on good governance and efficient resource management to ensure the stability in financial sector in Bangladesh.
Dr. Selim Raihan, Executive Director, SANEM insisted on our readiness and preparedness of private sector and local industries to deal with any external shocks and challenges in future. Moreover, he suggested to provide special attention on exploring potential local and new export oriented industries to cater the growing economic needs instead of relying on RMG industry and remittance inflow.
Published on: 2023-02-23