Seminar on "Decentralization of Dhaka and Sustainable Urbanization in Bangladesh"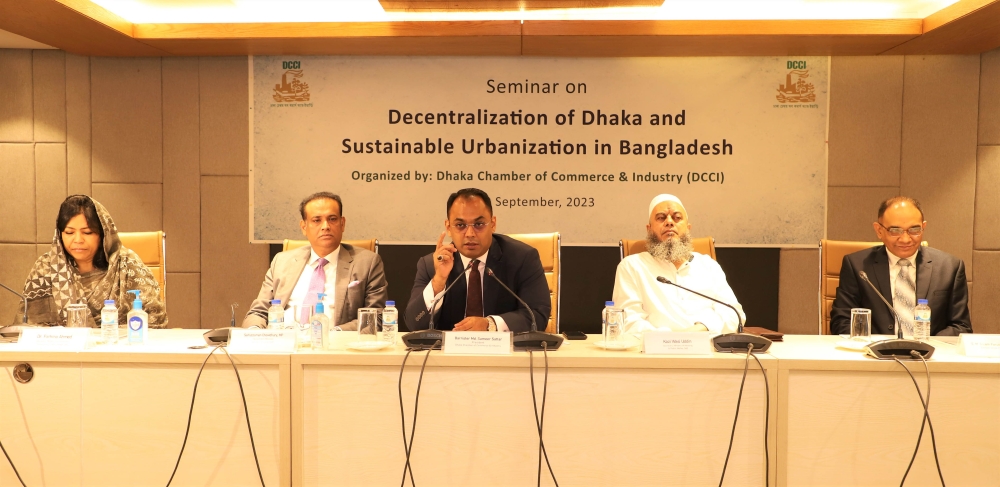 Good governance, implementation of urban planning, political will, equal development of rural areas, mass transportation and sustainable infrastructure development are crucial for sustainable urbanization and decentralization, speakers told at a seminar on "Decentralization of Dhaka and Sustainable Urbanization in Bangladesh" organized by Dhaka Chamber of Commerce & Industry (DCCI) held on 2 September 2023. Saifuzzaman Chowdhury, MP, Minister for Land was present as the chief guest. Kazi Wasi Uddin, Secretary, Ministry of Housing and Public Works and Dr. Farhina Ahmed, Secretary, Ministry of Environment, Forest and Climate Change were present as special guests.
DCCI President Barrister Md. Sameer Sattar said with the rapid economic development of the country, massive urbanization also needs to happen at a faster pace. 65% of GDP comes from the urban areas, where 35% of GDP comes from Dhaka alone. He said that in order to mitigate huge traffic congestion and pollution we have to ensure decentralization. For sustainable urbanization, decentralization will play a pivotal role, he added. He also suggested that the government needs to attract long-term commercial investments, especially in cities outside Dhaka. To ease human pressure on the capital city Dhaka, building planned satellite cities and increasing expressways can be a good solution, he mentioned. Also, the large cities of the country should have better health facility, quality education and adequate banking and administrative functionalities to attract people to live in these cities as well. Later, he said that through decentralization, we need to emphasise on equal distribution of wealth, boosting local economy and better public services.
Saifuzzaman Chowdhury, MP, Minister for Land said, that the government is implementing many development projects throughout the country equally in all places. In the next 10 to 15 years more metro rail and elevated expressway will be constructed that will ease the pressure of traffic congestion. Our GDP growth is hovering around 6%-7% and that will be sustained in the next decade, he expressed his hope. We have to change our mindset and there need a few fine tune, he added. He also said that in future people will not go to land offices personally as government is going for full automation of the process. The Land Reform Act will be passed in the parliament in October next, he expressed his hope. In the proposed Act, 3-times-cultivable lands are strictly prohibited for building any infrastructure, he informed. He agreed that there is a need of private sector representation in government organization like RAJUK or Wasa for incusiveness. He said that there is a need of industrialization for the sake of country's development but for that he said political stability is must for any development.
Kazi Wasi Uddin, Secretary, Ministry of Housing and Public Works said that government is working on detailed area plan (DAP) so that businessmen have some room for their businesses as well. He said that his ministry will consult with the NBR regarding the issue of tax deducted at source and higher tax for flat/land/property registration for reconsideration. Projects need to be inclusive; villages should have an equal share of development, he added. He also suggested for planned housing estates beside the EZs so that people working in the EZs can have urban facilities over there. For a country at least 25% forest is needed at the same time it should be kept in our mind that arable lands cannot be destroyed.
Dr. Farhina Ahmed, Secretary, Ministry of Environment, Forest and Climate Change said 50% oxygen comes from the ocean whereas with the extensive uses of plastic we are polluting the health of our ocean. We have to be more careful regarding air pollution, water pollution and sound pollution. She stressed on responsive business and responsive citizenship. She also hoped that the businessmen will be compliant more. She said that in terms of infrastructure development, we should be careful about its quality so that environment is not hampered.
Architect Iqbal Habib, Vice President, Bangladesh Environment Movement presented the keynote paper. He said that He highlighted that in Bangladesh 33% people are living in cities and its annual growth is about 6%. If this trend continues, by the year 2051, 55% of the total population will be living only at cities. Every year about 5 lakh people are being added to the population of Dhaka. Due to lack of planned decentralization human pressure on Dhaka is increasing day by day. He stressed on transformation of monocentric city to polycentric city ensuring planned urbanization, decentralization of cities and developing rural livelihood. He later suggested for strengthening local governments, area-based investment management, use of green technology for infrastructure development, uninterrupted point-to-point connectivity in the economic zones and consistent policies. He also said that if we can ensure better living standard in the rural areas through developing connectivity, better waste management, better sanitation, better education, administrative activities and utility services then people will not come to the cities.
AS panel discussant Kazi Golam Nasir, Former Chief Architect, Department of Architecture said we have to motivate our people to save our arable lands. It is alarming that we are losing our arable lands at a faster pace and if this trend continues, one day we will have no lands to cultivate.
Syeda Rizwana Hasan, Chief Executive, Bangladesh Environmental Lawyers Association (BELA) said that we actually do not have a vision for Dhaka city. She urged for reforms and re-organization of RAJUK. She later said that every Division should have a long-term master plan. She emphasized on saving our wet lands and agricultural lands for future food security.
Mohammad Fazle Reza Sumon, President, Bangladesh Institute of Planners said that unplanned urbanization is the bottleneck of a planned decentralization, he said. We have many urban plans but the problem is lack of implementation, he mentioned.
Dr. Md. Shadi Uz Zaman, Managing Director Notundhora Assets Ltd. said that we need government's support to build smart cities having smart density of people initiated by the private sector, he added
In the open discussion session, speakers urged on increasing high-rise parking in the cities and more elevated express-ways. They also requested to revive the Buriganga river as it was in 60s or 70s. DCCI Director Hossain A Sikder suggested for relocation of industries to the specific industrial zones. He also urged for reconfiguration of transportation sector.
Published on: 2023-09-02