Speakers urged for a Halal Certification Body to tap international Halal food market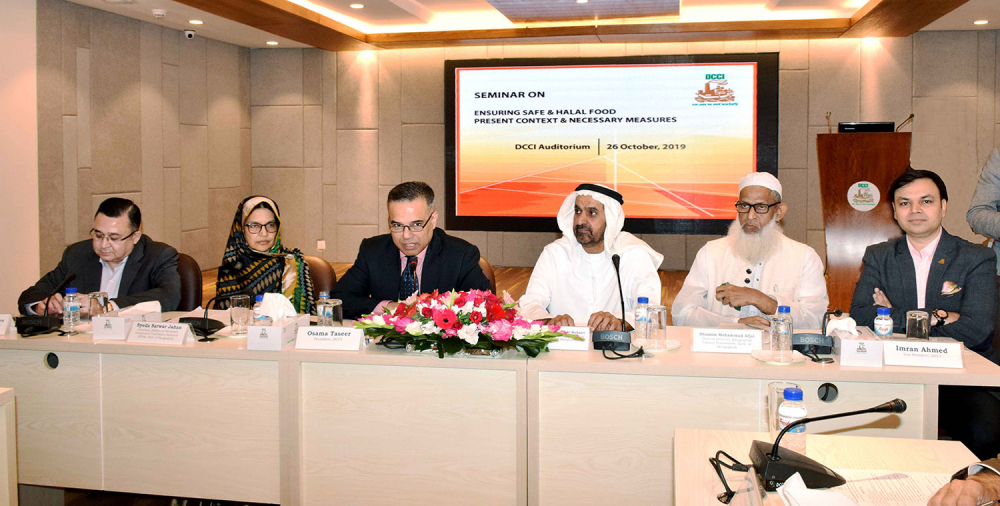 Dhaka Chamber of Commerce & Industry (DCCI) organized a seminar on "Ensuring Safe and Halal Food: present context and necessary measures" at DCCI on 26th October, 2019. Ambassador of UAE in Bangladesh Saed Mohammed Al-Muhairi was present as the guest of honour while Director General of Islamic Foundation Shamim Mohammad Afjal and Chairman of Bangladesh Food Safety Authority Syeda Sarwar Jahan were present as special guests. DCCI President Osama Taseer chaired the seminar.
DCCI President Osama Taseer in his welcome address said Agriculture and food product was the 2nd largest export sector in Bangladesh exporting USD1.4 billion in FY2018-19 after RMG sector. To expand the export volume and export basket of Bangladesh, we need to ensure quality and standard of our food products. He also said that because of weak infrastructure, inadequate eco-system, weak standard quality certification and low value addition we are failing behind in conformity assessment and losing competitiveness in international market. The Muslim population will increase 35% in the next 20 years across the world. The global Islamic market is around USD2.1 trillion which contributes to 11.9% of the world expenditure. Globally Muslim nations spent USD1.3 trillion in 2017 for food and beverages. Brazil, Australia, New Zealand and Thailand are leading the Halal market suppliers in recent time, he infomed. He recommended to support private sector in research and capacity building, proper policy support, build international certification process, economic zones dedicated for Halal products and new policy support incorporating scopes and guidelines of Halal business.
Ambassador of UAE in Bangladesh Saed Mohammed Al-Muhairi said that the popularity of Halal foods and other consumer items have been rising even among the non-Muslim populations around the world as halal foods are hygienic and healthy. The global consumption value of Halal food increase with 8.14% average growth rate and over the next five years the Halal food market will register a 6.1% compound annual growth rate in terms of revenue, he said. Bangladesh will soon enter into not only UAE market but also into the global market of Halal products, he hoped.
Director General of Islamic Foundation Shamim Mohammad Afjal urged to establish some sort of One Stop Service point under BSTI for Halal certification and testing. He emphasized on adopting science and technology to for the development of Halal certification process.
Chairman of Bangladesh Food Safety Authority Syeda Sarwar Jahan said Bangladesh is the 5th largest country in the global Muslim food and beverage consumption market. Demands of safe and Halal food are increasing day by day. Food safety has been neglected in developing countries including Bangladesh, she termed. But the Food Safety Act 2013 has been enacted and subsequently Bangladesh Food Safety Authority has been established. If we can ensure safe and Halal production of meat could have the opportunity to explore new window of international market in Muslim countries. So it is high time for us to work together for ensuring safe and Halal food for our life and health as well as for sustainable development .
Dr. A.K. Obidul Huq, Professor and Chairman, Department of Food Technology and Nutritional Science, Mowlana Bhashani Science & Technology University in his keynote paper said non-Halal food is a threat and risk to the Muslims and harming national economy, trade and tourism. He recommended for establishing Halal accreditation body, testing laboratories, Halal Processing Zones in Bangladesh.
Dr. Samia Abdellatif, Conformity Director, RACS, Dubai, UAE also presented a paper. She said that for Halal certification, adequate infrastructure and enforcement are needed. Bangladesh has potential to have testing laboratories and Halal accreditation body. She invited Bangladesh to be an active member of International Halal Association Forum (IHAF).
DCCI Senior Vice President Waqar Ahmad Choudhury in his concluding remarks said it is high time to tap the opportunities offered by the global Halal industry, as there is a trillion-dollar ready market for Halal products. Bangladesh has a big opportunity to exploit the global Halal market with products like agro-processed food, beverage, cosmetics and pharmaceutical items, he said.
Deputy Executive Director, ACI Food Limited Anup Kumar Saha, CEO, Bengal Meat A.F.M. Asif, Post-harvest Technology and Management Specialist, Department of Agriculture Extension Dr. Md. Saleh Ahmed, Former Secretary, ministry Agriculture and Coordinating Director, DCCI Enamul Haque Patwary spoke on the occasion as panel discussants. The speakers said that we need to learn and adopt technology. Global Halal market is dominated by the non-Muslims, so UAE can assist Bangladesh technically and financially, the speakers urged. They also urged the government to allocate 10 Economic Zones out of 100 dedicated for Halal food processing. They also urged to give credit facility and tax incentives to the private sector to promote them coming with investments in this sector.
Coordinating Director, DCCI Agro-based standing committee Enamul Haque Patwary said "food is for life not in exchange of life". We should be stern against food adulteration and contamination to safeguard our future generation, he urged.
Convenor of DCCI Neyamat Ullah Majumder, Former Directors AKD Khair M. Khan, former Senior Vice President MS Shekil Chowdhury, Senior Scientific Officer BCSIR Deepa Islam, DCCI Member MS Siddiqui, Shahjat Ali Khan from Bangladesh Frozen Food Association also spoke on the occasion.
DCCI Vice President Imran Ahmed was also present.
Published on: 2019-10-26