Summary of the Press Briefing on Current State & Future Outlook of Bangladesh Economy Private Sector Perspective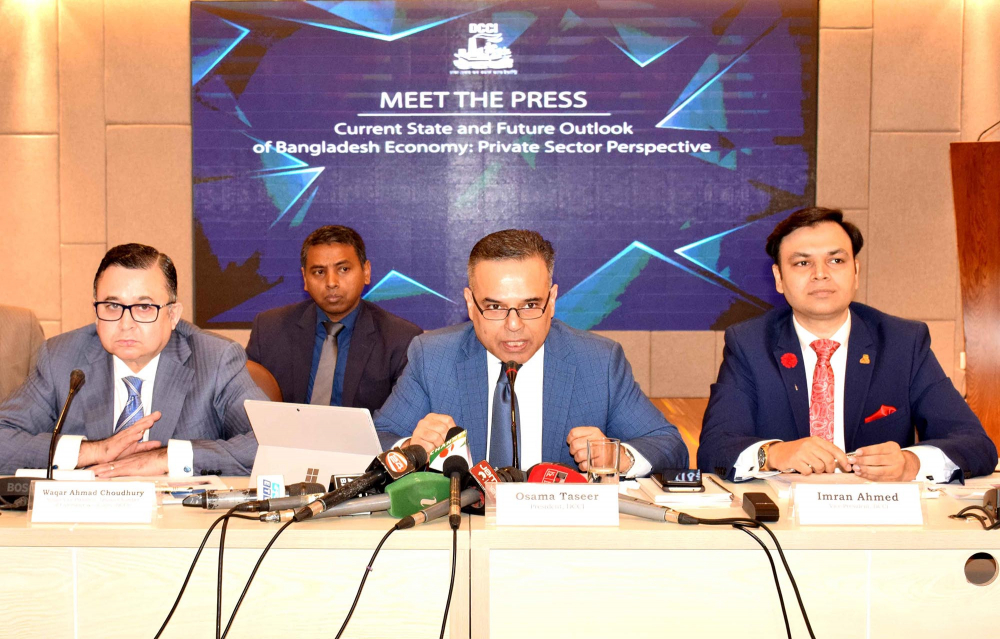 Economy of Bangladesh has been progressing featured by consistent growth, incremental per capita income and lowering poverty rate as well as consistent development record in recent years under the dynamic and visionary leadership of H.E. Sheikh Hasina, Hon'ble Prime minister of Government of Bangladesh with the spirit of building Sonar Bangla of the Father of the Nation Bangabandhu Sheikh Mujibur Rahman. We thank and acknowledge the current Government leadership and leading government agencies for remarkable achievements like food security, recognition of MDG role model, electricity coverage for 95% people, poverty reduction to 21.8% and qualification of LDC graduation criteria. Due to recent remarkable economic surge, many MNCs and development companies remark and forecast high aspiration on Bangladesh. The growth spree of Bangladesh is being fuelled by some key infrastructure development projects and timely initiatives of Government of Bangladesh towards realizing the vision of graduating into a Middle income country by 2021 and Developed country by 2041. Private sector has always been an integral partner of this development journey playing critical roles and contributions. To achieve these long cherished visions of Bangladesh, private sector has many stakes and opportunities to deal in the years to come. Taking into account the importance of vision in private sector, DCCI, a leading voice of private sector, did an analytical assessment of the current economic trend of Bangladesh, positively from the private sector perspective to find the strength and potentials and likely challenges of private sector. With these findings, private sector can better share the issues, needs and closely work with Government for continuous improvement of private sector trade, business and investment environment in Bangladesh aligning with the long-held visions of Bangladesh. In this connection, Dhaka Chamber of Commerce & Industry (DCCI) organized a Press briefing on 9 November 2019 to highlight the current economic state of Bangladesh and the issues and challenges of private sector.
DCCI President, Mr. Osama Taseer shares a paper with the journalists on current state and future outlook of Bangladesh economy. DCCI President highlights the brief state of Bangladesh economy encompassing performance of fiscal policy, monetary policy and macro-economic factors like inflation, private investment, international trade and employment situation to identify the state of private sector considering the private sector as the catalyst of the economic growth journey. This presentation also includes the current state and challenges of agriculture sector, leading industrial sector like Readymade Garment, Leather, Pharmaceutical, Energy & Power sector and leading service sector like banking, capital market, ICT and port situation etc. He provides some policy recommendations to minimize the likely challenges of private sector for sustaining the economic growth.
Economy at a glance
According to World Bank, Bangladesh is the 32nd largest economy in PPP terms and 43rd largest in nominal terms. At present, Bangladesh is one of the fastest growing economies in the world having the GDP growth 8.13 %. The economy is experiencing a structural transformation from agriculture to Industry and service-based economy reflected in the relative contribution to GDP. While share of Industry and Service sector to GDP is 35.14 % and 51.16 % respectively, the share of Agriculture sector reduced to only 13.60 %.
Fiscal Policy
While highlighting performance of Fiscal policy of FY2018-19, we found that revenue collection largely relieson NBR tax collection which contributes88.44% of the total revenue collection.On the other hand,incremental dependence on National Savings Certificate to meet deficit budget weakens banking sector deposit. Infrastructure investment is increasing reaching 3.61% of GDP which support to grow GDP at 8.13%.Though ADP implementation rate is satisfactory, qualityofADP spending can be ensured.
To improve the fiscal policy performance, DCCI recommended giving focuson domestic revenue mobilization reducing dependency on bank borrowing and national savings certificate.Tax net needs to be expanded along with increasing Non-Tax revenue sources to reduce the tax burden from the existing tax payers. To increase efficiency and quality in the ADP implementation, project teams need to be incentivized based on successful implementation of the project.Budget allocation for development expenditure needs to be enhanced.
Monetary Policy
While highlighting about the monetary policy performance, we found thatNPL and liquidity shortage due to diversion of the individual deposits to the National Savings Certificate caused contraction of private sector credit growth.Control of NPLand increase of tax netwill increase Government revenue, reduce government borrowing and help private sector credit growth.
Inflation
The inflation is recorded at 5.47 % in October 2019 and it is within the targeted level of 5.5% for FY2019-20. DCCI recommended for rational energy price with adequate supply and proper market vigilance for food inflation control will further ease the inflation.
Private investment
Government has taken reform initiatives to improve the country's business environment, improving our ranking within 100 by 2021. It is encouraging that the ranking of Bangladesh improved by 8 points to 168th out of 190 countries in the World Bank's Doing Business Report 2020. Bangladesh emerges in the list of top 20 improvers in the Report. Reform initiatives help increase the confidence of foreign investors, recorded highest ever FDI USD3.6 billion in 2018.
However, private investment is stagnant within 22%-23% of GDP over the last six years. Inadequate infrastructure and high cost of doing business challenge the desired private sector investment. DCCI recommended to expedite the reform initiatives, ensure quality infrastructure investment, focused institutional and policy reforms and rationalization of corporate tax rate for increasing private investment.
International Trade
Merchandize export grew by 10.55% year on year to USD40.5 billion in FY2018-19. However, our export basket is not diversified. Export basket is hugely concentrated on RMG sector constituting 84% of total export. However, because of RMG export growth, the trade deficit decreased by 14.8%.
Our export may slow-down in FY 2019-20. During July-October of FY2019-20, overall export reduced by USD930.56 million to USD12.72 billion compared to last year. DCCI recommended to develop a Comprehensive strategy for export basket diversification and new market access. Moreover, set up of the National Single Window (NSW) on time, improvement of logistics infrastructure including port infrastructure, FTA with potential countries and more emphasize on focused economic diplomacy to reduce non-tariff barriers are needed to increase our export.
Skills and Employment
According to ILO,thehigher-educated unemployment rate is 26.1% which has some social implications.In terms of the average income of expatriate labor, Bangladesh is behind regional peer like India due to lack of skilled labor and professionals. DCCI recommended update of the course curricula at all education levels with a special concentration on technical education and orientation to the changing dynamics of real world professions and entrepreneurship. In addition, relevant authoritiesneed to examine the economic and labor market demandof destination countries.
Agriculture
Though contribution of agriculture to GDP is decreasing but the sector is contributing highest 40.6% in terms of employment. However, a huge amount of crops are being wasted due to lack of post harvest processing and supply chain. Absence of the testing lab facilities isa challenge for Bangladeshicompanies to meet the international standard.Lack of logistics, warehouse infrastructure and low technology adaptation are also limiting growth of this sector.DCCI recommended administering Good Agriculture Practice (GAP) in every segment of supply chain. Concentrationneeds to be givenon product development and exploring newmarkets to grab market share. In addition, development of logistics and warehouse infrastructure, international standard testing lab facility and strong processing industry are critical.
Manufacturing sector
Though Quantum Index of leading Manufacturing sectors has increased from previous year except apparel sector, lack of backward linkage industries, energy security and technical skill are limiting growth of this sector. In view of this, DCCI recommended to reduce corporate tax for both listed and non-listed companies. A long-term and predictable energy pricing policy need to be streamlined. DCCI also proposes input tax credit for all VAT payers and advance tax exemption on imported raw materials.
Readymade Garment Sector
In last 5 fiscal years, RMG export of Bangladesh has grown average 7.66% per annum.However, in first four months of the current fiscal year, RMG export dropped 6.67% year-on-year to USD10.57 billion. Higher logistic cost, wage hike, low labor productivity, gas price hike and compliance cost affect RMG export competitiveness. DCCI recommends 3% cash incentive for the next 3 years for export of all products across the board to make this sector sustainable. In addition, sector oriented re-skilling, up-skilling scheme and incentives to adopt new technology like 4IR in the RMG sector need to be ensured.
Leather Sector
In FY 2018-19, export of leather and leather products decreased by 6.06% to USD1.02 billion over USD1.09 billion in FY 2017-18.Central Effluent Treatment Plant (CETP) in Savar has not completed yet resulted in relocated tanneries yet to be compliant. Because of non-compliance, local raw hide cannot be sold to export-oriented manufacturers. For the development of this sector, DCCI urged for quicker completion of CETP and implementation of leather and leather goods development policy 2019.
Pharmaceutical Sector
For a sustainable pharmaceutical industry, Government should concentrate on quicker completion of the API Park. Moreover, more investment needs to be mobilized to enhance API production capability and to initiate R&D to develop own patented pharmaceutical products before 2024 as paten payment will be required after graduation from LDC.
Small & Medium Enterprises (SME)
SME is the lifeline of economy with 23%-24% contribution to GDP. SME has challenge of market information, access to finance, technical knowhow and SME friendly infrastructure. To increase the SME contribution to the economy, SME Act and credit guarantee scheme need to be made.
Energy & Power Sector
Our daily gas demand is 3650 MMCFD and supply is 2650 MMCFD with a 1000 MMCFD supply gap. Our industrial gas tariff is USD28.64 Cent which is higher than that of Vietnam, India and Indonesia though electricity tariff is cheaper. Moreover, inadequate gas exploration causes gradual dependence on other liquid fuel energy import. DCCI recommended for a stable, predictable and business oriented primary energy fuel sourcing mix and pricing policy. Exploration and distribution policy needs to be short, mid and long-term with focused plan of actions. In addition, local exploration and production companies need to be well-equipped and enlisted in capital market for raising fund.
Banking Sector
In the Banking sector, in January-June 2019, the disbursement of total industrial-term loan meagerly increased by 0.97% compared to the same period in 2018. In addition, total BDT 19,905.28 crore SME loanwas disbursed during the time.Interest rate offered by most of the banks is hovering between 11%-15%. NPL is the key challenge. Government is trying to implement single digit lending rate which is encouraging. To implement this, inflation control, reduced National Savings Certificate interest rate and good governance need to be ensured. And, a separate mechanism can be developed by the Central bank to identify willful and unintentional defaulters which will help banks to take necessary safeguard against NPL.
Capital Market
Absence of bond market, lack of good companies and corporate governance limit the potentials of capital market to long-term financing. DCCI therefore, urges development of effective bond market and encourages the use of mutual fund for long-term financing under Special Purpose Vehicles (SPV). Moreover, regulators need to allow listing Green-Field projects and effective function of DSE SME platform to raise fund from market.
Port Situation
Despite having growth in container handing in major sea ports, low draft and siltation, container handling equipment shortages and underdeveloped hinterland connectivity are the major sea port infrastructure bottlenecks for increasing handing capacity. Lengthy customs procedures, lack of coordination, hassle in inspection, documentations and approvals increase the lead time in cross border trade. Master plan for port development is needed including short, medium and long-term planning for the port infrastructure development. Moreover, a single port development and oversight authority titled "National Maritime and Port Authority" needs to be established to regulate and facilitate all port related policy issues.
Information & Communication Technology (ICT) sector
Bangladesh is the second largest source of online freelancers. Export of Telecommunication and Information services is USD550 million in FY2018-19. Outsourcing sector has a huge market potential in USD500 billion worth global market. Lack of necessary infrastructure and skills need to be addressed. In this regard, ICT R&D investment, updated IT training courses considering the 4th industrial revolution and ICT startup fund are required.
Published on: 2019-11-09