Virtual Discussion on Current Reforms in Ease of Doing Business in Bangladesh and Preparedness for the Future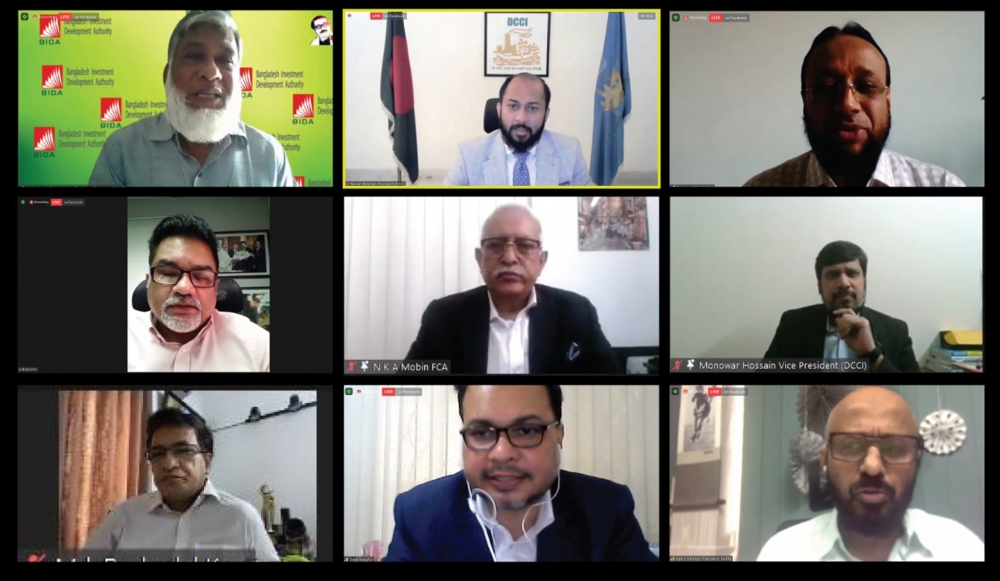 Dhaka Chamber of Commerce & Industry (DCCI) organized a discussion meeting on the current reforms in the ease of doing business in Bangladesh and preparedness for the future. Executive Chairman, BIDA Md. Sirazul Islam joined as the chief guest and Md. Billal Hossain, Additional Secretary (Executive Member 5), BIDA joined as special guest.
DCCI President Rizwan Rahman in his remarks said that after successful economic graduation in 2026, Bangladesh will lose most of the preferential trade facilities which may hurt our competitive export market. In this context, the ease of doing business is essential to reduce the cost of business as global trade is getting more competitive. Given this circumstances, it is the high time to redress the bottlenecks, reduce time, process and cost in all criteria of the Doing business and streamline the entire process towards lifting the indicators of the Index. To make cross-border trade paperless with automated customs clearance for low-cost trade process, we need to fasten the Corrective Action plan (CAP) for implementing trade facilitation agreement (TFA). He also said that a time-bound reforms and improvement roadmap will be inevitable to take the economy into a new stature aligning with the vision of Government in the changing geo-economic order.
Md. Sirazul Islam, Executive Chairman, BIDA said ease of doing business is a bigger thing. We do not like to mainly focus on scoring rather we are trying to create a business friendly environment. Some of the reforms have already been done by the government, for which BIDA is coordinating. He therefore requested the private sector to go through the reforms and report based on the real facts. BIDA needs to be strengthened more. If you have any observations on the reforms made, you can tell us. Company to company land transfer now can be done by 7 days, he informed. There will be separate courts for dispute resolution under enforcing of contracts, he added. Moreover, alternative dispute resolution is also important.
Md. Billal Hossain, Additional Secretary (Executive Member 5), BIDA said investors always want to know the ranking before any investment and in that context we need to improve in the ranking. He requested the private sector to response the survey considering the reforms already done. For that he requested the businessmen to know about the reforms. At present 48 services are being given through the OSS and requested the businessmen to avail these services.
Jibon Krishna Saha Roy, Director, BIDA presented a power point where he highlighted the reforms already have been made by the government. He said, private sector needs to be aware of these reforms for their preparedness to response during the survey. He said information dissemination is very important in this process. He said to improve in the ranking, some of the major reforms have been made for example time limit for getting land transfer, trade license, construction permits, registering property, getting electricity connections, getting credit, time to export have been reduced. Moreover number of procedures and cost for various index have been reduced.
Asif Ibrahim, Chairman Chittagong Stock Exchange Ltd, Md. Rashedul Karim Munna, Director, DCCI, Data Magfur, former Director, DCCI, M S Siddiqui, Member, DCCI and Kabir Ahmed, President, Bangladesh Freight Forwarders Association took part in the open discussion session. They said that creating a real effective business friendly environment is more important than improving in the ranking of ease of doing business index. They suggested for coordinated collaboration among the concerned public sector entities as well as public-private consultation. They also said that businesses should be well aware of all government circulars or notifications related to trade and commerce. Still there is a scope for improvement in institutional and regulatory reforms, they emphasized. BIDA should hear the concerns of foreign investors to get an idea of possible reforms needed, they added.
DCCI Senior Vice President N K A Mobin, FCS, FCA gave the vote of thanks. DCCI Vice President Monowar Hossain and members of the Board of Director were join at the virtual discussion programme.
Published on: 2021-04-27