Webinar on Asia & Pacific and Bangladesh: Harnessing Economic Potentials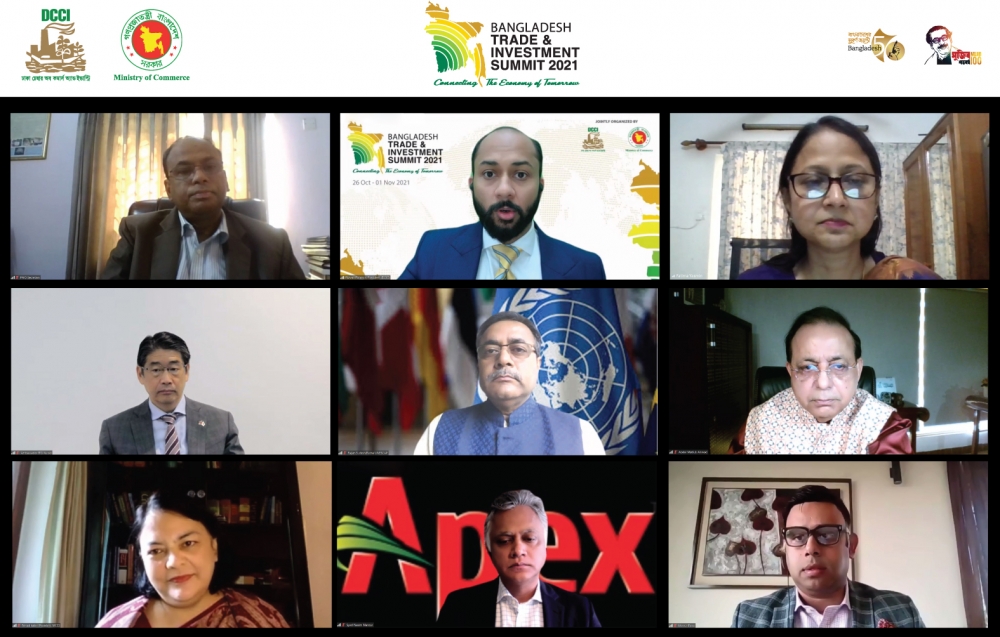 Bangladesh is located in a strategic location in the Asia and Pacific and poised to improve its competitiveness to make its vibrant position in this region but the country needs to work more in policy reforms, product diversification, market diversification, business process simplification, competitive tax and tariff regime, infrastructure development to harness the economic potentials, speakers told these in the webinar on "Asia & Pacific and Bangladesh: Harnessing Economic Potentials" held on October 29, 2021 on the 4th day of Bangladesh Trade & Investment Summit 2021.
DCCI President Rizwan Rahman in his power point presentation said that the Bilateral trade of Bangladesh and Asia and Pacific region hovers around USD36 Billion. Asia & Pacific is the third largest export destination of Bangladesh but Bangladesh does not have any PTA and FTA with Asia and Pacific member countries. He also suggested that the rules of origin need to be relaxed by APTA for export growth from LDCs. More bilateral and multilateral agreements are to be made to tap the untapped markets of the Asian countries. Bangladesh is always in favor of regional integration and action to go for more PTAs and FTAs to address the possible export growth after the graduation.
Chief Guest Md. Tofazzel Hossain Miah, Secretary, Prime Minister's Office said Bangladesh has a very strategic location in the Asian region. Asia is the new economic frontier and Bangladesh is a part of it. Bangladesh is poised to transform in many areas with some commendable achievements. He said LDC graduation is a sign of Bangladesh's proven macroeconomic strength and resilience as well as our readiness. We are trying to uplift the living standards of the vulnerable class of people. He also underscored the importance of sustainable infrastructure. Bangladesh is located in a strategic location close to two big economies like China and India and it is an opportunity for us. Besides, our domestic market is also a very lucrative and attractive for destination for investment, he added. He said Bangladesh has the competitive generous incentive packages in the South Asia.
Special Guest Fatima Yasmin, Secretary, ERD, Ministry of Finance said Bangladesh is the fastest growing economy in Asia. Covid led pandemic has hampered our growth momentum though our economic pace was very smooth. Due to adequate policy support, investment in infrastructure, resilient, dynamic and engaging private sector Bangladesh has been able to maintain a sustainable economic growth momentum. She said Bangladesh is going in a right direction and government is giving holistic approach especially in the mega infrastructure sector investing almost USD40 billion alone in this sector. Policy reforms are a continuous process to facilitating businesses. Bangladesh offers liberal investment regime in South Asia for attracting FDI. Bangladesh is in a discussion with 10 more countries for signing PTA or FTA and 2 will be signed soon.
Guest of Honour Ito Naoki, Ambassador of Japan to Bangladesh said in next 5 years per capita income of Bangladesh will reach to USD 3000 dollars. He said that lack of infrastructure is a bottleneck for investment but for Bangladesh it will be solved soon. Japan has been the largest export market for Bangladesh. Trade between Bangladesh and Japan has increased by 10% in the last fiscal. Bangladesh will be the first choice for China-plus-one destination for Japan, he informed. He also suggested to give cash incentive facility to the foreign investors of RMG sector. Reforms will enhance the image and that will change the perception. He also informed that Japanese Mitsubishi Motor Company has already completed feasibility study for CKD plant in Bangladesh. Japan Economic Zone in Araihazar will soon be open for investment and will accommodate 100 companies. He assured that Japan will be with Bangladesh in its development journey.
Dr. Rajan Sudesh Ratna, Deputy Head and Senior Economic Affairs Officer, UNESCAP (South and South West Asia Office) said over dependence on a specific product or specific market is not good for any economy. Product diversification and market diversification are more important, he added. Bangladesh has a big population which means a big local market in the Asian region. He underscored the need of infrastructure both soft and hard, cross border connectivity and paperless trade regime. He appreciated Bangladesh's development in the pharmaceutical and IT sector. He lastly suggested for process simplification to start a new budiness, improving ease of doing business, easy certification process. He also said that Bangladesh can negotiate for continuation the existing facilities for few years more even after the LDC graduation.
Abdul Matlub Ahmad, Chairman, Nitol Niloy Group said there is a lot of business opportunities in Asia Pacific region. Now we need partners and global value chain. Automobile sector is a huge space for backward linkage industries where Bangladesh can tap the Asian light engineering components sector. Nevertheless, Bangladesh should showcase its ability as Bangladesh can be a good investment destination for Asian countries.
Barrister Nihad Kabir, President, MCCI said Bangladesh is focused on its various visions and is on its right direction. From the foreign investors' perspective she said dispute resolution process, taxation regime, tax compliance issues, improved business climate, tariff and non-tariff structure, trade facilitation, simplification of procedures, infrastructure development, supporting service industry, connectivity, person to person connection are some of the major issues a foreign investors. She also urged upon quality education system and improved healthcare facilities having an international standard research capacity.
Syed Nasim Manzur, Managing Director, Apex Footwear Ltd. said Asia and Pacific economy will lead the world economy in near future. He cited an example of leather sector and said that out of 10 top market leaders in global footwear industry, 6 are from Asia. "We need to look into Asia for investment as well as for FDI", he added. He also stressed the need of linking Bangladesh's economy with the regional blocks and strengthening trade relation into a new stature. He however urged upon low cost financing, capacity building of service sector, people to people connectivity among the Asian countries and ease of intra-region access. He further emphasized on time bound and strategic implementation of policies, simplification of rules and regulations and improvement of airport and airlines as these are linked with building a positive image.
Dr. Masrur Reaz, Chairman, Policy Exchange of Bangladesh said 50 percent of the global GDP will come from the Asia Pacific region by 2040. The Asia Pacific market will surpass the other markets in future, he said. He also said that regional blocks or trade blocks are playing a catalyst role for increasing businesses. China, India, Thailand, Philippines, Malaysia, Vietnam and other few other Asian countries are growing tremendously and it is an opportunity for Bangladesh to be part of it. But Bangladesh failed to attract Asian FDI to Bangladesh in the recent past and the region remained untapped for Bangladesh. What Bangladesh now needs to do to be strategic for future plan on trade and investment. It is true that Bangladesh has done good in different indices of competitiveness but it needs more faster and expedited to reap the benefit of Asia's economic advancement.
Published on: 2021-10-29