Webinar on Industry-Academia Linkage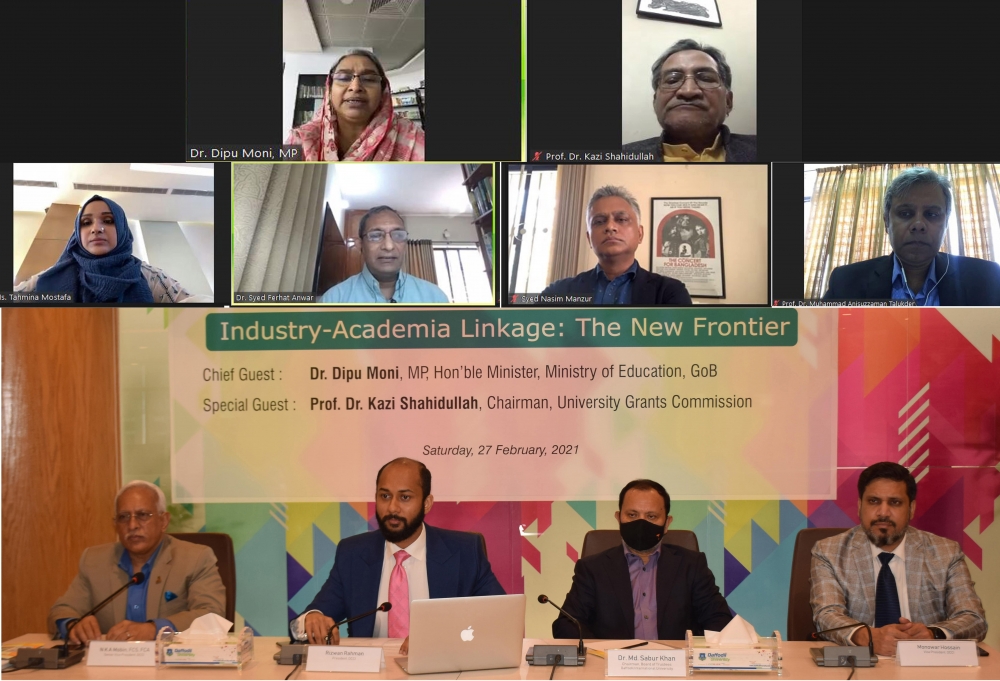 Rapidly changing of technological progresses due to the 4IR, digitisation and SDG centric economic transformation are reshaping the economic landscape of Bangladesh including industries and jobs, said Rizwan Rahman, President of Dhaka Chamber of Commerce & Industry (DCCI) in a webinar titled "Industry-Academia Linkage: The New Frontier". The webinar was organized by DCCI on 27 February, 2021 where Education Minister Dr. Dipu Moni, MP joined as the chief guest while Prof. Dr. Kazi Shahidullah, Chairman, University Grants Commission (UGC) joined as special guest.
Graduates are struggling in the job market as our conventional education system lacks skill-orientation in line with the industry demand, said Rizwan Rahman. Bangladesh is a country of 63.5 million labour force and is growing at 2.2% which means around 2 million new entrants join the labour force every year, he also added. But 38.6% unemployment of the graduates indicates the skill mismatch. University-industry collaboration has emerged as a new means to elevate the country competitiveness in terms of developing skilled workforce and innovation ecosystem, said the DCCI President.
Most employers believe critical thinking and problem-solving skills will grow in prominence and 50% of all employees need re-skilling by 2025.
He said Universities and private sectors need to work together to convert our youth population into skilled human capital. He also suggested for arranging internationally accredited skills development training in continuous re-skilling and up-skilling programmes, establishing Research universities to offer high quality post-graduation, providing incentives like tax exemption to the private sector for R&D collaboration with Universities and increasing public investment in education, skills development and research & development.
Education Minister Dr. Dipu Moni, MP said that we need to change our mindset for better industry and academia linkage. For a sustainable and commercially viable research ecosystem, she urged the private sector to invest in the education sector. Universities should not only focus on education and degree but they have to provide necessary trainings. She said still we have gap between industry and academia and to reduce the gap we should do a mapping to identify skill requirements. Despite Covid 19 has manifold socio economic impacts, however it has created a lot of opportunities and a tripartite collaboration among industry-academia and research can reap these benefits in future. To cope up with the challenges of 4IR, she emphasized on more vocational and technical education.
Prof. Dr. Kazi Shahidullah, Chairman, University Grants Commission urged the private sector to invest their CSR fund in research and education sector. He also called upon the Universities to frame out timely and internationally standard curriculum. If we can create skilled manpower we will not require any mid-level managers recruited from abroad, he added. He also urged to take initiative for conducting need based specially designed programmes.
Dr. Md. Sabur Khan, Chairman, Board of Trustees, Daffodil International University presented the keynote paper. He said Universities should not only focus to bring out graduates every year, rather they have to think that how much the graduates learn soft and hard skills during their studentship. He also said that government should encourage Universities to fulfill the demand of industries. Industries should collaborate with the academia to create their demand-based skilled graduates. According to Bloomberg Innovation Index 2021, South Korea leads the world in innovation. This is because of their industry-academia linkages, he added. He also emphasized on investing more on education and technology to compete with the global market. We have lack of industry data and visual analytics, he said. He suggested to compile the best practices of public and private Universities and share with each other. Moreover industries need to share their ideas and requirements with the academics and the regulators so that an international standard curriculum can be established in our education sector.
Discussant Syed Nasim Manzur, Managing Director, Apex Footwear Ltd. said that the private sector will be encouraged to invest in research and education sector if they are given special tax benefits or exemptions. He also urged to upgrade the intellectual property rights and patent acts to safeguard commercially viable research. Another discussant Dr. Syed Ferhat Anwar, Director and Professor of IBA, University of Dhaka said that for better industry academia collaboration, government's policy assistance is necessary. He also proposed the government to create an endowment fund for sector based research. Discussant Prof. Dr. Mohammad Anisuzzaman Talukder, Professor of BUET suggested the government to consider research and innovation activities as a mega project. Investment in the education sector will not give economic return overnight but it has a long term positive effect, he added. Discussant Tahmina Binthe Mostafa, Director, Meghna Group said that industries want to utilize the local talents if they are given enough skills and trainings.
DCCI Senior Vice President N K A Mobin, FCS, FCA gave vote of thanks while Vice President Monowar Hossain and members of the board of director took part in the webinar.
Published on: 2021-02-27