Workshop titled "Issues and Opportunities of CMSME Lending"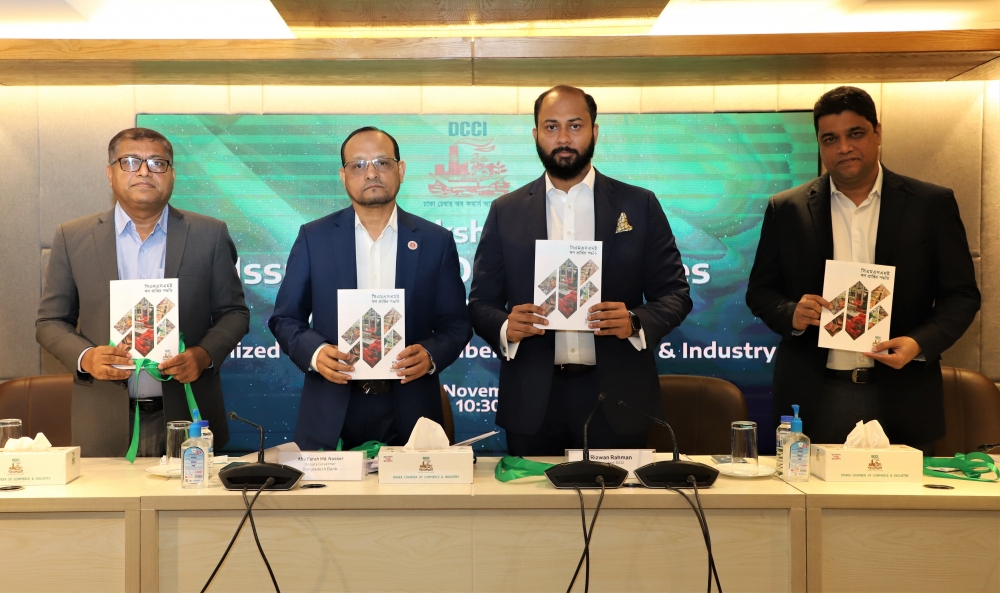 Bangladesh Bank has created a fund of Taka 2000 crore for Credit Guaranty Scheme with a view to giving collateral free loan specially to the CMSMEs, but out of that amount only Taka 192 crore has been disbursed till today, which is disappointing, whereas proper utilization of this credit guarantee scheme is inevitable for the revival of CMSMEs, told the Deputy Governor of Bangladesh Bank Abu Farah Md. Nasser at a workshop titled "Issues and Opportunities of CMSME Lending" organized by Dhaka Chamber of Commerce & Industry (DCCI) on 12 November 2022. He was present as the chief guest of the function. Speakers also told that if we call CMSME is the engine of our economy then CMSME financing is the fuel of that engine.
Abu Farah Md. Nasser also said that to reach out to the CMSMEs, Banks should think of establishing more sub-branches across the country rather creating agent banking because creating sub-branches help cut extra administrative cost. We are going through a tough time due to Ukrain-Russia war and at this time if we try to control interest rate forcibly, it may create recession, he added. Manufacturing and Service sector should get priority in getting loan right at this moment to control inflation, considering the global scenario, he said. He also urged upon the experts to think over developing online market place and block chain to create ease on alternative of traditional loan system. Bangladesh Bank identified total 19 clusters and he urged all the banks to give CMSME loan under these clusters. Later he said that to create a Digital Bank (special focus to CMSMEs) is in the planning of Bangladesh Bank.
DCCI President Rizwan Rahman said CMSME sector play important roles in making our economy grow but due to lack of policy support and financial support, we can fully utilize this sector. Commercial banks and financial institutions sometime feel risky to give loans to CMSMEs. Till 2022, 73.77% of the stimulus or Taka 147.46 billion has been disbursed but most of it went to medium enterprises. He also said that regulators should give CMSMEs more access to information and communication technology, financial assistance so that they can have the ability of manufacturing a lot and competitiveness in supply chain process.
Md. Jaker Hossain, Director, SME and Special Programmes Department of Bangladesh Bank presented a keynote paper. He said CMSMEs contribution to GDP is 25% now and in 2024 it will be around 32% and by the year 2027 it will reach to 40%. So there is no scope of growth without CMSME, he said. If an entrepreneur seeks loan under the stipulated threshold with proper documentations, banks have no other choice but to sanction the loan. He also said that Bangladesh Bank has the plan to disburse 50% of total loan to cottage, micro and small and 15% at least to women CMSME entrepreneurs.
Md. Nazeem Satter, General Manager, SME Foundation in his separate keynote paper highlighted that there are more than 7.8 million CMSMEs across the country. He said only banks are not sufficient to ensure loan for CMSMEs rather we may utilize the alternative capacity of MFIs, NGO Foundation, Karmasangsthan Bank, BSCIC, SME Foundation etc. Both banks and clients have to be reasonable for a successful loan agreement. Bank should be pro-active and on the other side client should be ready with all necessary documents. There are more ten thousand branches of all banks in the country and if we able to utilize this units, then we do not need any specialized bank on SME alone. We need to go for target financing to create an ecosystem.
Published on: 2022-11-12